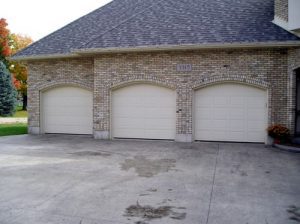 On many homes in New York and Connecticut, the garage door is one of the main features that is visible from the street. Since that is the case, the appearance and condition of your garage door is an important consideration. When you are debating whether or not to paint the garage door, whether wood or metal, there are several important factors to consider.

The main reason not to paint the garage door is relevant only on metal doors with a factory finish, sometimes called "baked enamel" or "powder coat." On these kinds of aluminum or steel garage doors, the original finish is extremely durable and resilient, and can last for decades. If you paint over this factory finish, however, the new paint must be maintained every 5 to 10 years, because it will not endure the weather as well as the original coating.
That said, there are many reasons why one might want to paint a garage door, even over the baked enamel finish. One common reason is simply color preference. If your house has been repainted and the garage door no longer matches, repainting is advisable. Or, if your house looks bland and monotone from the street, the garage door is a great place to use a color that will add distinction and interest.
A more compelling reason to paint a garage door is if the previous coating is wearing out. On a metal garage door, look for spots where the paint looks thin, discolored or chalky. This can cause serious problems, including rust on the door and stains on the driveway. On wooden garage doors, whether painted or stained, look for any areas where the coating is peeling, cracking or discolored. If left untreated, this will lead to wood rot and mildew.
A.G. Williams provides painting services to New York and Connecticut, including garage door painting. We would be happy to come to your house to provide you with a free evaluation of the paint or stain on your garage door, and an estimate for the cost of repainting or re-staining it. Call us for services in Pelham, Ardsley, White Plains, Irvington, Chappaqua, Cos Cob, Darien and other nearby cities.