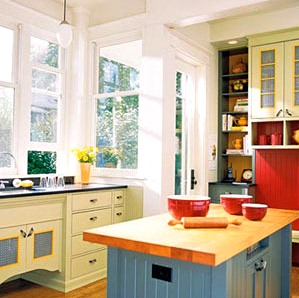 With so much wear and tear from cooking, washing dishes, and wiping down, kitchen cabinets often get a worn look after a few years of use. When cabinets become stained or scuffed, many homeowners assume they need to replace their entire set of cabinets – an extremely high cost option. Other home owners simply want to give outdated cabinets a classier, distinctive style. Either way, painting your kitchen cabinets is an excellent way to give your kitchen a fresh, new look with little cost or effort. See below for some helpful tips on how to paint kitchen cabinets!
Preparing to Paint Kitchen Cabinets
Before you begin painting, you will need to prepare the cabinets. First, remove all hardware (handles, hinges, etc.). This shouldn't take too long and can usually be done with just a screwdriver.
Next, you will need to remove the glossy sheen from your previous cabinet coating so the new paint can adhere properly. To do this, you can use either a liquid de-glosser or a sanding sponge. With either option, this job can be somewhat laborious and messy, so be sure to wear your old cloths.
Paint Away!
Now that your cabinets are ready, you can begin the painting process. First apply two coats of primer: If you plan on painting your cabinets with a color other than white, add the same pigment to your primer so that it matches your desired paint color. Finally, for your top coat of paint, many painting contractors recommend using a semi-gloss, oil based paint which will provide a classy look as well as a lasting, washable surface.
Another option which requires less preparation is a using a shellac. Shellacs are fast drying for multiple coats and can be custom tinted and applied directly over the previous finish with no de-glossing. They are usually sprayed on by professional house painters, but can also be rolled or brushed on. Even if you opt for using shellac, we recommend that you apply a final coat of oil-based paint for a better look and longer lasting results.
Final Touches
Now that your painting is complete you can re-install the handles and other hardware. You may consider replacing the hardware, as it is inexpensive and can add a fun, personalized touch to the look of your kitchen.
If you are looking to repaint your cabinets but don't know if you want to try it yourself, give us a call and get a free estimate! A.W. Painting Company has been offering top-quality painting services for over a hundred years. We serve in Pelham, Ardsley, Tarrytown, Pleasantville, Briarcliff Manor, Cos Cob, North Stamford and the surrounding areas.