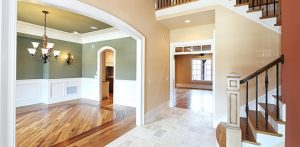 With so many other expenses and a tight economy, is it really worth paying to hire an interior painting contractor? What are the advantages? These questions are worth thinking through. There are several factors that should be considered in deciding whether or not to hire a painting contractor: quality of results, time involved, safety, and pricing.
Quality of Results
The first major item to consider in deciding whether or not to hire a painting contractor is the quality of the completed job. Hiring a reputable painting contractor will ensure that the job gets done excellently and to your satisfaction. With professional skills and equipment the service provided by a painting contractor will be crisper, cleaner, and have more lasting results.
The knowledge and skills of painting contractor are vital when it comes to properly preparing surfaces to be painted. Whether walls need minor carpentry repairs, wallpaper removal, priming, or cleaning, you can be sure that a painting company will get the job done well.
Another thing to consider is color consultation. Professional painters are trained to know what colors look good in certain light and with other colors ensuring that you are satisfied with the results.
Time-frame
Many homeowners find that interior painting projects often take much longer to complete than expected. Projects that were intended to last a week or two begin to stretch out over the months and add chaos and hassle to already busy lives. Steps in the painting process which are usually not factored into schedules often include room preparation (moving furniture etc.), floor protection, surface preparation (wall repair, cleaning, etc.) as well as cleanup. All of these steps take time, and along with trips back and forth to the paint store, they make a project take longer than most people plan for.
So, if you are working with a tight schedule or would simply like to get a project done faster to avoid the inconvenience of having a partially-completed project in your home, consider hiring an interior painting contractor. Most painting companies can finish a project in a few days. With professional knowledge, experience, and equipment, painting contractors are able to complete jobs efficiently.
Safety
One of the most common household injuries is that of ladder accidents. Painting contractor are equipped with the right ladders for different jobs and they know how to use them safely. If you plan on attempting an interior painting project on your own, be sure you have the proper ladders for your particular job. Don't take chances!
If you are looking for help with a project, contact us for a free estimate! A.G. Williams is a professional Painting Company serving in New Rochelle, White Plains, Thornwood, Pound Ridge, Belle Haven, Stamford and the surrounding areas.