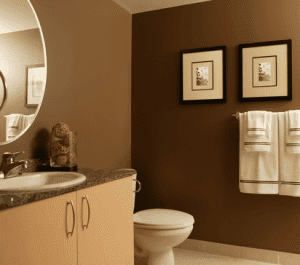 Amid the dizzying, towering aisles full of paint cans in your local home improvement store, it can be an intimidating proposition trying to find the right can of bathroom paint for your painting project. That's why we're here to help! With over 100 years experience as a residential painting contractor, we can help you find the products you need. One common question that homeowners often ask is, "What kind of bathroom paint should I use?"

Some companies make special bathroom paints that have specific properties designed to target the needs of bathrooms. These bathroom paints are usually mildew-resistant, waterproof and highly washable. Unless your bathroom has a history of mildew/mold problems, or it is unusually wet, you probably do not need a specialty bathroom paint like this. Instead, we recommend choosing a regular interior paint for your bathroom.
Latex/acrylic paint with a satin sheen is usually the best choice of paint for your bathroom. It provides good moisture resistance and scrubbability, yet it does not have the extreme reflectiveness of semi-gloss paint. This allows it to stand up to a lot of water and wear, but it does not highlight surface imperfections like semi-gloss.
If your bathroom currently has mildew on the walls, you will want to kill it with a mildew spray or a good wash with a mild bleach solution before painting. The mildew must be killed, not just wiped away, prior to applying a new coat of paint in your bathroom. If your previous paint has much glossiness to it, make sure to roughen the sheen with sandpaper or an appropriate chemical, so that your new coat of paint will stick.
If you are making a drastic color change or if you have some areas in the drywall that needed patching, you will want to apply a good primer to the walls first. Use oil-based primer if your bathroom walls have oil-based paint, and latex primer if your walls have latex paint.
When you are painting your bathroom, it is also a great time to refresh your caulking. After painting, look for any areas where the caulk is stained, cracked, missing or ugly, and apply a fresh bead of interior caulk to these areas. When you're done, your bathroom will look and feel much more inviting and fresh!
A.G. Williams is happy to give you a free estimate for painting your bathroom. When you hire a professional painter, the project will be finished in a much shorter time, with better results and far fewer headaches than if you try it yourself. Also, we offer color consultations to help you make sure you are getting exactly what you want!
Serving Larchmont, Rye, Sleepy Hollow, Hastings-on-the-Hudson, Mamaroneck, White Plains and the other nearby communities, A.G. Williams is your best choice for bathroom painting in New York and Connecticut.