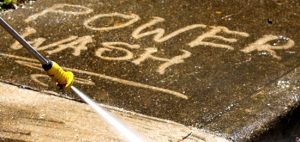 In New York and Connecticut, when the winter mud or summer molds begin to accumulate on a house, many homeowners wonder whether they should replace siding, repaint the home, or attempt to wash the debris by hand. As a professional home maintenance contractor, we recommend power washing as an efficient solution to this problem. Here are a few of the benefits of power washing your home:
Time-efficient
In the middle of a crazy schedule, who wants to be scrubbing siding for days on end? Power washing your home is a fast solution. Many power washers allow you to reach higher places on your home than with ladders, eliminating both the danger and time involved in moving ladders around.
Cost-efficient
Rather than replacing your siding or painting your entire home, a simple power washing job can give a fresh new look to your home. Replacing siding as can be pricey; if it is not damaged, it should just be cleaned. By removing corrosive molds and dirt, power washing your home can actually extend the lifespan of the siding or paint used on the exterior of your house.
Work-efficient
Power washing your home is much less work intensive than attempting to wash by hand or with a garden hose and often produces a superior result. Hours of scrubbing with a sponge and cleaning agent grow tiresome quickly and cause frustration and back pain. Power cleaning allows you to stand upright and simply let the water do its job.
Eco-Friendly
And finally, power washing your home is an eco-friendly option. Many professional home maintenance companies recommend using power washers because they don't require chemicals that can be harmful to the environment. Protect your landscaping as well as underground water sources by using the power of water – not chemicals.While power-washing can be done by homeowners, it is a safer option to let a professional contractor do the work, as there is potential
While power washing can be done by homeowners, it is a safer option to let a professional contractor do the work. There is a risk of damaging siding, breaking windows, or self-injury if power washing is done incorrectly.
If you decide your home need to be power washed, contact us for a free estimate. A.G. Williams is a reliable painting and home maintenance company serving New Rochelle, White Plains, Thornwood, Pound Ridge, Belle Haven, Stamford and the surrounding areas.