Sometimes cheap is good! A great sale on a TV might pop up, a holiday weekend special on appliances, or a vintage item you find at a garage sale that perfectly tops off your eclectic style.
In other cases, however, cheap is not good. In fact, it can be risky, and even dangerous. The price tag may be undeniably appealing, but when you dig a little deeper you discover that what lies beneath is concerning.
With that in mind, let's talk about exterior painting, and the estimates you'll receive for your spring or summer project this year.
Think Bigger Than Price – What Are You Really Getting from Your Exterior Painting Company?
There is always someone willing to do a job for less. That's just reality.
When we compare cost and value, however, you'll find that for the sake of a cheaper cost, you're throwing away your chance to enjoy real value.
Let's unpack that a little.
Here are a few factors that can lower cost that you need to be aware of before you put your home investment dollars in the hands of the lowest bidder:
Do they have employees, or just subcontractors? Subcontractors are cheaper than employees, but they can often be unreliable, uninvested (you're not really their customer, after all), and not as thoroughly background-checked as actual employees.
Are they licensed and insured? If your painting contractor doesn't carry the proper credentials and coverage, you are the one who is ultimately held responsible if there is a workplace accident or if damage is incurred.
Cheap products! There is a huge difference between low-grade paint and premium products. Cheap materials provide poor coverage (requiring more coats), poor color retention (you may notice your colors change in relatively short order), and a short lifespan.
What kind of time will they invest in surface preparation? In order to quickly turn over the project, it's likely that prep will be minimal at best, meaning that your exterior paint's lifespan is shortened even more. Or, even if a good product is used, if the surface is damaged, dirty, or decayed, the integrity of the paint will still be compromised.
Is your painting contractor accountable? A lack of a physical business address, or ties to a specific region or community, means that your painter has little risk. Their reputation isn't on the line!
Beware of long, unrealistic warranties. A painting company can put down any number they want, and the bigger the number the more attractive the guarantee will seem. The issue lies in fine print that is riddled with loopholes, providing them a way out of really standing by their work. Or, they may simply not be available to honor a warranty when you need them if they are no longer in business.
What Are the Benefits of Working with a Reputable Exterior Painting Contractor?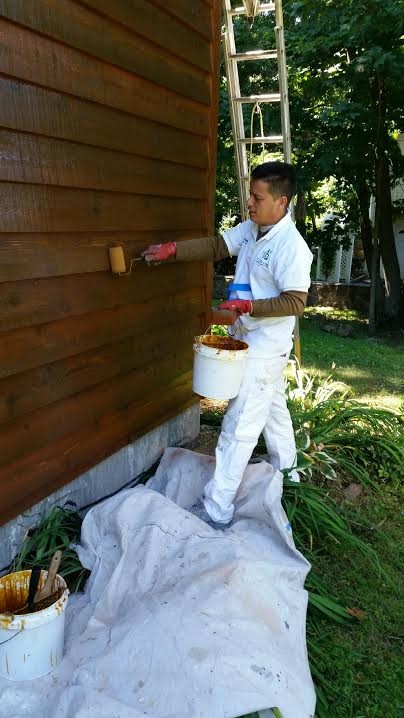 They have a local

reputation, history, and accountability

Licenses and insurance are in place and up to date, protecting you and your home

An established, back-ground checked, invested team of employees

Product knowledge and experience

Realistic, clear warranties that you can be confident will be honored

Ownership of a business address and equipment

Clear, detailed estimates that you fully understand, and that articulate any recommended prep work and/or repairs

Better, friendlier, more competent service overall
Contact Your Local Painting Contractor and Ask the Big Questions
In addition to researching their website, reviews, and project portfolios, we encourage you to reach out to your prospective painter directly, and ask the big questions. Use our bullets above as talking points, helping you to better understand whether or not they are worthy of your trust and business.
If you live in Westchester or Fairfield counties, we hope you'll reach out to us at A.G. Williams Painting Company. It would be our pleasure to meet all of your house painting needs, and to candidly answer any questions you might have.