We love our work for all kinds of reasons, and every project we work on has something to appreciate. That said, painting this house in Rye, New York stood out as a special treat! The grand scale and elegant design of this home made it a residential painting project to remember!
As you can see, the dominant colors of the home are white for the ceiling, pillars and wainscoting, a light bluish-gray for the walls, and dark wood for the floors. Though it is undeniably simple as a palette, the variety of architectural details in the home creates endless visual interest. In truth, a more complicated set of colors would be overwhelming.
One of the most stunning areas of the home is the entryway. With a cathedral ceiling that really lives up to the term, a gorgeous wood floor, an elegant staircase and impressive wainscoting, this foyer was a joy to paint (though also a challenge, as you'll see).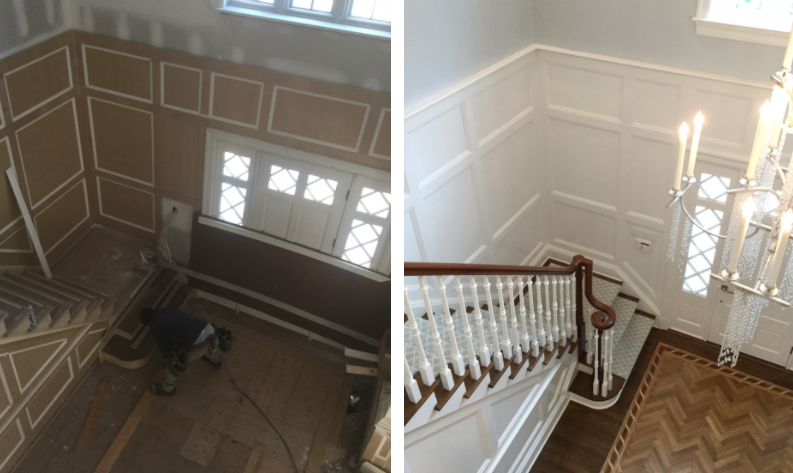 Special Characteristics of This Residential Painting Project
Height: Painting the foyer in this Rye home presented a challenge due to its height. We have ladders, scaffolding, and lift equipment for working at all kinds of heights, but they can be tricky to maneuver in a foyer like this, especially working around the stairs. However, a bit of patience and a lot of caution get the job done!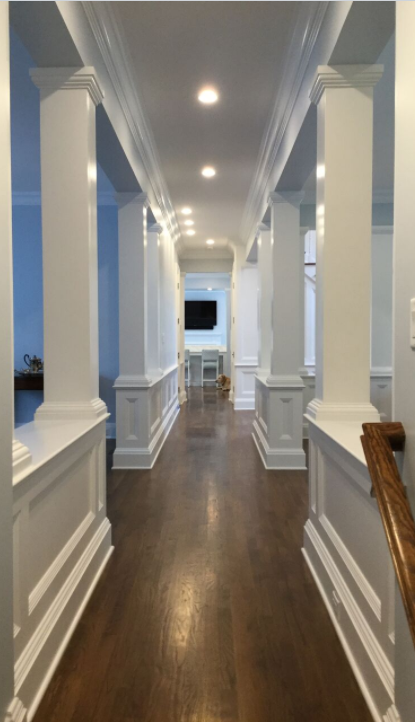 Glossy Paint: As you can see by the reflections in the finished photos, we used a high-sheen white paint for the pillars, crown molding, and other classy design features of this house. The challenge is that a reflective paint like that will call attention to flaws. That's why we take care to ensure the surfaces are all smooth before painting, and we are meticulous in avoiding runs, drips, splatters or lap-marks during the paint application.
Classy Floors: With beautiful wood floors and rails like these, there is zero tolerance for drips or splatters. We are always very careful to protect surfaces from spills and overspray, but we had extra motivation in this home, with such magnificent woodwork to protect!
Residential Painting Services for Rye, New York
With more than a hundred years of painting history here in New York, A.G. Williams has an unparalleled reputation. Based in Pelham, we paint homes and businesses in Rye and in the surrounding communities of Westchester and Fairfield Counties.
To see some examples of houses we have painted, feel free to browse our portfolio. Otherwise, take a minute to hear from some testimonials from our previous painting customers. If you would like an estimate for house painting, we look forward to hearing from you!