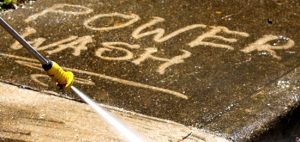 Are you tired of a smudged, faded house that has lost its once sharp and vibrant look? Or perhaps your sidewalk has been growing increasingly slimy or off-color from years of mud and grime. A power washing job should be at the top of your list as an effective, efficient solution. There are several excellent reasons to consider power washing an exterior area of your home.
Fresh Look
The long, snowy winters and sludgy springs in New York cause a lot of wear and tear on the exterior areas of your home. Layers of mud and grime sink deep into the siding of your house or the concrete of the side walk or patio. Car exhaust, pollution in the rain and air, animal waste, and pollen can take a toll and add to the tinted and smudged look of your home. A thorough power washing job will do wonders. The high-pressure blast penetrates through layers of unattractive residue and leaves your home looking fresh and new.
Avoids more serious damage in the future
In addition to looking dreadful, the mold, mildew and fungus growing on the siding of your home or the wood on your deck are capable of serious damage and deterioration. By power washing early on, you could avoid a more significant repair job that will cost you considerably more time and money. You may even save yourself a painful fall by removing the slime that creates a slippery patch of residue on the deck or patio.
Quick and effective
Nobody enjoys scrubbing and scraping for hours on end, especially if the hard labor has no effect! The gunk and residue is often so deep that the hardest scrub will rarely cleanse the all the filthy crevices. The power washer is a quick and effective way to infiltrate and conquer all the built-up layers of stubborn mud and residue.
Read these tips if you are thinking about hiring a painting contractor.
If you are interested in power washing your home, just give us a call and we will get you a free estimate! A.G. Williams has been providing quality painting and home maintenance services for over 100 years. We serve Mamaroneck, Edgemont, Dobbs Ferry, Valhalla, Bedford, Riverside, New Canaan, and the surrounding areas in New York, Connecticut, and New Jersey.