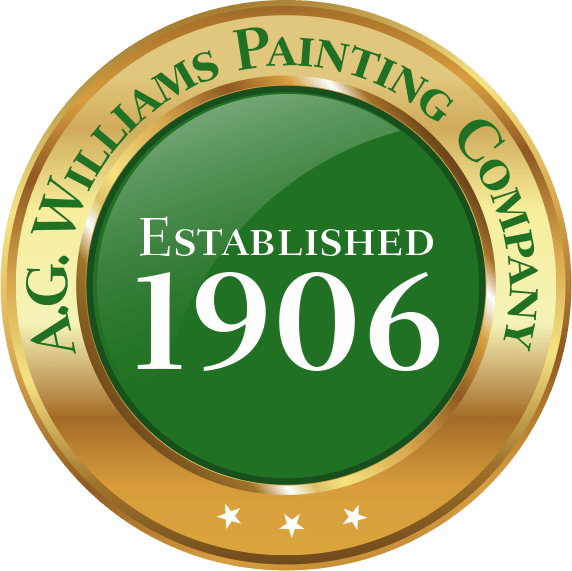 A.G. Williams Painting Company
You get one shot to make a first impression. That's why your exterior is so important. When painting your home or business, you want to know that you're working with someone reliable and trustworthy who goes the extra mile for you.  A.G. Williams Painting company has been doing just that for folks in Westchester County, Fairfield County, Rockland County, and Putnam County since 1906.
As a fourth-generation family-owned business, we understand what it means to do the job right. Our company was built by immigrants to this country, people who understood the value of a dollar and the importance of doing the job right. While we've grown as a company, we still hold that those core values remain unchanged.
When you work with A.G. Williams, you're getting our very best. Of course, that's evident in our large selection of premium paints -- but it goes beyond that. Our painters are full-time, background-checked employees who make sure that your job is done right—making a great first impression has never been easier.
The Beginning of A.G. Williams Painting Company
In 1904, Arthur G. Ratsikas immigrated to America from Greece, after spending a short time in Turkey. His name was changed to Arthur Rogers at Ellis Island and he settled in Worcester, Massachusetts. To earn a living, Arthur worked as a cabinet finisher for a piano manufacturer, but he quickly became dissatisfied. He moved to New York City and started going door-to-door as a painter and handyman in Greenwich Village. By 1906, he established a painting company and, shortly thereafter, hired his first employee. Because he exclusively used Sherwin Williams products, he decided to change his surname to Williams, believing it would enhance his credibility in the painting industry.
Arthur built a house in the North Bronx for himself and his wife Angelica in 1920. His first son, George A. Williams, was born in 1924, and would later take over the business. One year later, Arthur had a second child and a thriving paint business with twelve employees and two paint stores. As the business continued to expand, Arthur's family continued to grow and three more children were born.
Through the financially hard times of the Great Depression, Arthur made a commitment to his employees to keep them working – he knew that they had families to support – and he kept that promise. The company survived the Great Depression but it took its toll on Arthur's health. By 1946 the company was a hollow shell of its former self.
The Second Generation of A.G. Williams
In 1946, Arthur's oldest son, George, stepped up to take the reigns of the family business. George's first love was baseball and although he had hopes of making it into the majors, by 1946 his fledgling career was over. A World War II veteran, George was newly married, and had started a family of his own. He soon saw potential for growth of the family's residential painting business in the burgeoning suburbs north of New York City. His vision revived the company.
By 1961, George had relocated the business from New York City to Pelham, New York, so he could be closer to his customers. And as his home painting business grew through the 1970s, the company also began increasing its presence in the commercial repainting market.
Today's A.G. Williams Painting Company
By the late 1970s, George was enjoying semi-retirement, having handed the company off to his two capable sons, Arthur G. Williams and George P. Williams, the company's current owners. As their father and grandfather had before them, they transformed and expanded the business once again. By the mid-1980s, they had outgrown their space and needed a bigger facility. The brothers bought a vacant lot a mere 100 yards away and constructed a new facility at 411 Fifth Avenue in Pelham.
The early 1990s brought the turbulent years of the economic recession, and the company barely survived. Again, A.G. Williams kept all of its painters on the payroll. And as the economy came back, so did A.G. Williams Painting Company.
Sadly, on December 15, 2003, George A. Williams died unexpectedly. His passing was a shock, not only to the entire A.G. Williams Painting Company family, but to area businesses as well. "Mr. Williams," as everyone called him, was known as a wonderful person and was highly regarded as a great businessman, having saved the company in his early years and having grown his business through honesty, integrity, and professionalism. He passed that tradition on to his sons. Through his memory and spiritual guidance, the company continues to grow and prosper.



Trustworthy people
We are fully insured, 100% background-checked, full-time employees, and have a crew leader on-site to ensure good communication with the client. So you never have to worry about liability or safety.
Premium product
We don't use cheap paint that looks good at first but peels and fades after a couple of years. We have a warranty on every job we do. If the paint starts to fail, we return and do it again at no cost to you.
Take the time to do the job right
Some companies under-scope their hours to lower their bid and win the job. We have a project management process that works, and we do the job right the first time.
Make Your Home or Business A Place You can Be Proud Of
We understand that you want your home, office, or facility to look stellar. A pristine paint job makes you look good to your neighbors, tenants, customers, and employees. We want you to be proud of your building.