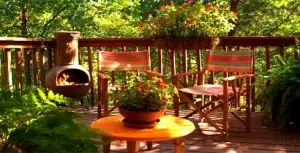 With spring around the corner, it's time to start turning our attention to the outdoors. Winter's mud is still clinging to much of the outdoors, including your deck. With a constant buildup of dirt and mildew, many homeowners wonder, "how often should I power wash my deck?"
Frequency
Most home maintenance contractors recommend power washing your deck once a year. An annual wash will keep your deck in optimal condition, cutting down on accumulation of dirt, mildew, or algae growth.
Time of Year
It is recommended that you power wash your deck as early as possible in the spring. As the weather warms up and you are thinking about getting those barbecues grilling, you will want to have a clean, pleasant deck to enjoy. Why not get your deck clean early in the season, so you can appreciate it for the remainder of the summer?
Power Washing Tips
If you decide to power wash your deck, there are several things you should be aware of which could prevent potential damage to both you and your deck. First of all, power washers are great tools, but they can be dangerous. Improper use of power washers can result in injury to persons as well as etching in your deck. Be sure to follow the instructions carefully on the specific power washer you are using!
Before your begin power washing, apply a mildew-killing detergent and let it set.
When you are ready to start, make sure to choose an inconspicuous corner to test on. In general, most power washers should be set at 500 – 600 psi, although some harder woods require higher pressure. When you start power washing, keep the nozzle at least 12 – 18 inches away from the wood. You should use even strokes, going from one end of a board to the other. Work systematically so that you don't end up with a patchy look.
If you have any other questions on deck or home maintenance, just give us a call and get a free estimate! We'd be happy to answer any questions and help you get the job done! A. G. Williams is a top line Painting and Home Maintenance Contractor. We serve New Rochelle, White Plains, Thornwood, Pound Ridge, Belle Haven, Stamford and the surrounding areas.