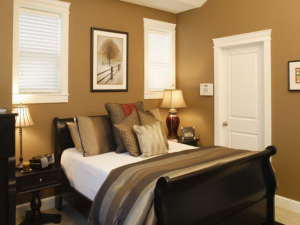 Hosting people in your home can be a wonderful experience, a time for building relationships and making people feel comfortable. Though it is mostly the character of your relationships and the warmth of your family that make the experience great, the physical accommodations you offer will also have an impact. When you are decorating a guest bedroom, all of your choices contribute to making it pleasant and inviting, including the wall colors. So, what color should you paint a guest bedroom?
Choosing Colors for a Guest Bedroom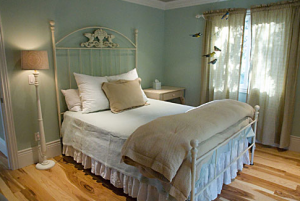 The first consideration is that you want the room to fit with the rest of your house. One way to provide this consistency is with your trim color. Since trim is usually some shade of white, you can use this as a visual bridge, using the same color trim in both places. If your guest room is quite self-enclosed (as in, you don't really see inside it from other parts of the house, or from inside the room you don't really see much of the rest of the home), then you don't need to worry too much about this coordination. In any case, choose colors for your guest bedroom that at least don't clash with the rest of the house.
Another consideration is that you want to pick colors that will please a wide variety of guests. Neutrals are the best chance for this, which is why they are also popular in public places like doctor's offices and banks. Also, cooler colors provide a sense of calmness and serenity, which is a great environment for your guests. Finally, avoid really dark colors for your walls, as this can be gloomy or oppressive.
With those considerations put together, your best options are in the tan family, the grey-blue family, and the green family. Choose light hues that tend towards neutral rather than bold.
More Tips for Guest Bedrooms
Be simplistic in your choices of decorations. Rather than fill the room with trinkets or cheap decorations, spend a little more on one or two really nice decorative items. Choose something tasteful and unique that can be a focal point of attention. Avoid a visually busy environment.
Emphasize the bedding. Make sure your sheets, pillows and comforter match the wall decor, as this is really at the heart of hosting overnight guests. Nothing says "welcome" like a cozy, attractive, tidily-made bed! Also have some coordinating towels and washcloths set out in a visible location.
Hosting this Winter Season?
If you will be hosting guests during the winter celebrations, make sure your rooms are all ready. If your guest rooms need new colors, or your dining room needs painting, call early to reserve your place with a professional painter. Or maybe your foyer needs touching up, or your guest bathroom is outdated… whatever the issue is, a house painter can have your home looking it's best when the guests arrive.
A.G. Williams is a professional house painting company in New York and Connecticut. We would be delighted to serve your family, painting a guest bedroom, bathroom, or any part of your home! We paint homes in Scarsdale, Irvington, Riverside, Yorktown, Hastings, White Plains, Edgemont and the surrounding cities and towns.