What is that magic product that will look perfect on your deck and last halfway to forever? Unfortunately, there is no single product that is best for coating everyone's deck, and nothing will be as perfect or permanent as we might wish. When you are trying to decide whether to paint or stain your deck, you'll need to evaluate the pros and cons of each product.
Maybe I Should Paint My Deck
If your deck was previously painted, then paint is the best option for recoating. The labor involved in stripping all of the old paint so you could switch to stain is prohibitive.
With a new deck, you get to choose your finish. Paint has the advantage of offering more color options than stain. Additionally, it forms a water-resistant film on the surface, filling small gaps and cracks. This helps to protect wood from water intrusion. Finally, paint is more UV resistant than stain, meaning it will hold its intended color longer than stain will.
Keep reading, though, to find out about potential problems with painting a deck.
Maybe I Should Stain My Deck
In our area of New York and Connecticut, exterior surfaces are put through a heavy cycle of freezing and thawing, often many times per year. This causes expansion and contraction of the wood in your deck, which is likely to cause premature paint failure.
Another potential downside to painting a deck is that horizontal surfaces receive foot traffic, and they often end up with snow or rain sitting on them for an extended time. These factors can also contribute to paint failure.
Stains soak into the wood of your deck, meaning they are not as affected by seasonal changes. They also will not peel with foot traffic, and they will not trap water inside the wood if any gets in, the way paint does.
Finally, stains allow the wood grain to show through more than paints do. Many people prefer this because they consider it a more natural look.
That said, most stains do not form a solid barrier against moisture. They also are not as resistant to UV rays, and they don't offer as many colors as paint.
Is There a Good Compromise?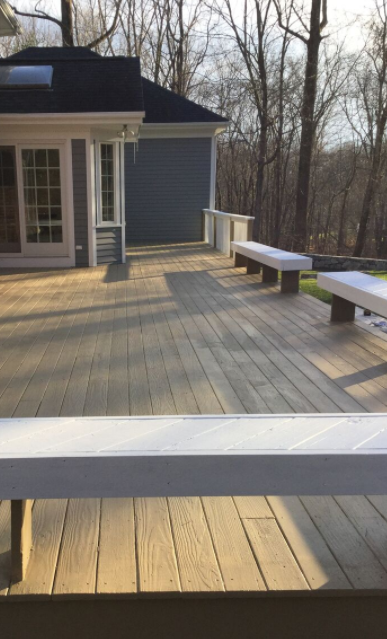 For many decks, a solid-color stain offers the best compromise of features. It goes on easily, and it creates a protective film on the deck surface. It provides UV protection and holds up to traffic and weather very well. When it does begin to wear out, it does not require as much work as failing paint does to recoat. Finally, solid-color stain films are thinner than those of paint, meaning more of the wood grain will be visible.
A semi-transparent stain gives color to your wood without obscuring the natural grain. The darker the color you use, the more it will resist UV radiation and fading. A good quality stain will also provide water resistance to prevent wood rot. You will need to recoat more often when using semi-transparent stains, but it is not as difficult a process as it is to repaint. Also, a clear sealer can be applied over a stain to preserve the life of your coating.
Lasting Results
Here are a few more tips to help you get the most out of your deck paint or deck stain:
If you paint, use a primer first. This helps prepare and protect the wood, extending the life of your paint.
Whatever you use, make sure the wood is clean and totally dry before you begin.
Make sure every surface is coated, especially including the end-grain of the wood.
Give the deck surface enough time to cure fully before you begin walking on it or put the furniture back on.
Deck Painting and Staining Services
When your deck needs a new coating, a professional painter will always give the best results. A.G. Williams provides all the services you need to keep your deck looking fantastic and lasting a long time. We have the tools, products, knowledge and experience to clean your deck without damaging it, and then apply the best stain or paint product for your specific project.
A.G. Williams is a professional painting company serving Pelham, New Rochelle, Greenwich, Stamford, Port Chester, Harrison, Rye, Scarsdale and the surrounding communities in New York and Connecticut.