While some tasks demand our attention and don't let us forget them (like an overflowing toilet, for example!), others tend to remain in the background, unnoticed. The state of our drywall would probably fall into the second category for most of us. Though it surrounds us every day, we usually don't truly see it until we stop and look.
Unfortunately, when a guest steps into your home, drywall problems can stand out clearly, since they aren't surrounded by those walls all the time.
When you pause to examine your drywall with a fresh perspective, you may begin to notice it the way a visitor would. Cracks, holes, scrapes, roughness, uneven surfaces, peeling tape, dented corners… they may seem like small details, but taken together, they can have a huge impact on the overall look and feel of your house.
To help you get a feel for what to look for, we have provided a description of several common drywall problems. However, it's not very helpful to point out problems without giving helpful solutions, so we have provided those as well!
Drywall Cracks
The Problem: Long, tiny cracks appear on the ceiling or walls, gradually growing longer (and possibly wider) over time.
The Cause: The drywall is fastened to wooden studs, which expand and contract with temperature and humidity. They can also bend over time. Since the drywall is not flexible, it will crack as this happens.
The Solution: Elastomeric filler is like a cross between spackle and caulk. It can be applied with a putty knife to fill the crack, and it dries to form a paintable surface. It remains flexible, so that if any more shifting occurs, the crack does not reappear. Alternatively, drywall tape and mud can be used to cover over the crack. After this, the spot needs to be primed, then the whole wall painted.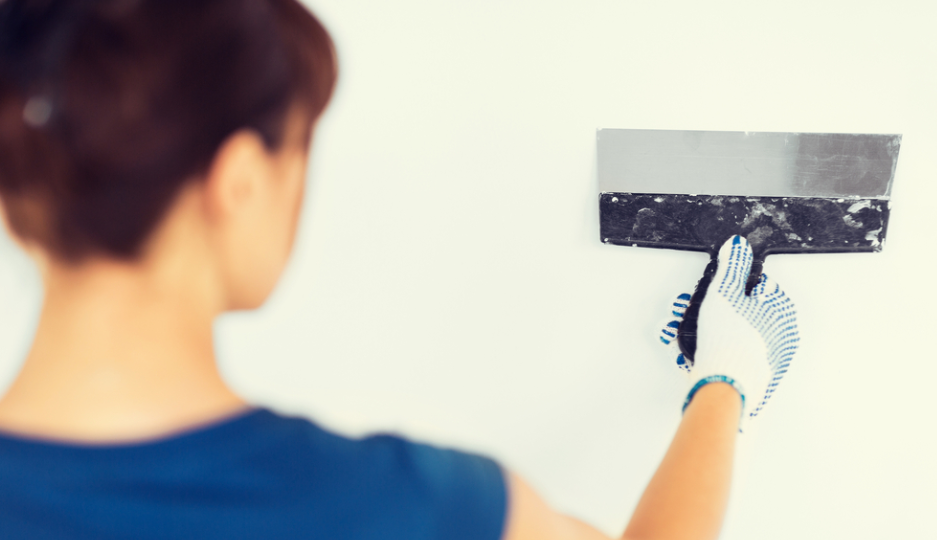 Nail Pops
The Problem: Small bulges appear in the drywall, often forming cracks around them. In extreme cases, a nail head pushes right through the surface of the drywall.
The Cause: Seasonal shifting causes drywall movement, as mentioned above, and this in turn can cause nails to work their way back out of the wood, bulging through the drywall.
The Solution: Use a drywall screw to tighten the drywall back against the wooden studs, an inch or two below or above the popped nail. Then pull out the nail, or pound it firmly back in until it is below the level of the drywall. Now use drywall patching compound to fill the holes. Sand the compound smooth, prime, and paint.
Mechanical Damage
The Problem: Holes, dents, gouges, scrapes, indents and abrasions mar the surface of the drywall.
The Cause: Life, kids, pets, moving furniture, and a host of possible "oops" moments!
The Solution: Smaller drywall imperfections can be filled with drywall compound or spackle. Bigger holes need to be filled using a patch kit or a custom-cut piece of drywall to fill the hole. For best results, have a professional do the bigger patching jobs, since it is very difficult to achieve a clean, smooth repair.
Uneven Surfaces
The Problem: Random areas of bumpy texture on the walls, or other flaws that mar the smoothness of the surface.
The Cause: Poor installation of the drywall or a poor previous paint job. This could be caused by someone painting a wall while it was dirty, or using an old or dirty paint roller cover. Maybe a previous owner did some DIY drywall repair that didn't produce a smooth, attractive result, and now the problem lies under a layer (or more) of paint.
The Solution: Sometimes the irregularities on a surface can be removed by careful sanding and filling to create a smooth surface. However, in some cases, the best way forward is skimcoating. This process involves troweling on a thin layer of drywall compound on a whole wall, creating a brand-new surface that is clean, clear, smooth, and beautiful!
Peeling Drywall Tape
The Problem: The tape that covers the seams between sheets of drywall is coming loose, leaving visible cracks, and maybe even peeling right off the wall.
The Cause: Poor installation can cause this to happen, or water leakage, or extreme shifting/settling of the home.
The Solution: Use a razor knife to cut out the section of loose tape, sand the area smooth, and apply a new piece of drywall tape to the affected area with drywall compound. Prime the area and paint the wall or ceiling.
Gaps Around the Edges
The Problem: Where your baseboards meet the drywall, there are uneven gaps that make the wall look untidy or unfinished. This can also happen around interior window frames and door frames, around vents, cabinets, light switches, outlets, and other similar items.
The Cause: Unevenness in the drywall causes the trim or baseboard not to sit flush against it, or it is the trim/baseboard that is not perfectly straight, so it does not conform to the wall. Similar problems can occur with vents, cabinets, and other accessories.
The Solution: A simple bead of caulk works wonders, filling gaps and disguising unevenness so that only the most critical eye ever even notices them. Once the caulk has dried, the surfaces can be painted, and your wall reaches a whole new level of attractiveness and style!
Drywall Repair and Interior Painting for New York and Connecticut
For a motivated do-it-yourselfer with some time and patience, most of these repairs are achievable, at least to a passable extent. However, if you want your walls to look fantastic, it is always best to hire a professional house painter.
At A.G. Williams, we emphasize thorough surface preparation on all our interior painting projects. That means we routinely fill cracks, repair holes,  caulk edges, re-tape seams, and even skimcoat whole walls. When you hire A.G. Williams, you can count on having beautiful, smooth, attractive surfaces, with true colors and uniform coverage.
Serving New York and Connecticut for well over 100 years, A.G. Williams is your best choice for a local house painter in Westchester and Fairfield Counties.