We recently completed a large job at a local apartment building, including painting the walls and coating the concrete floor. More specifically,  our team coated 6000 square feet of basement hallways, plus a basement meeting room, all in just 8 days.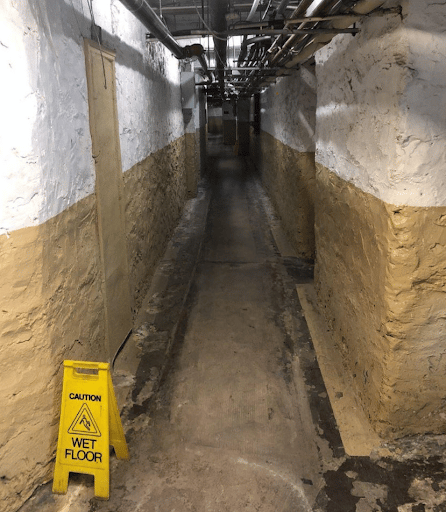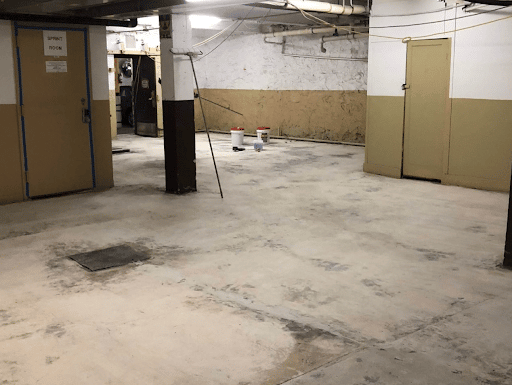 Key Considerations before Coating This Commercial Floor
One challenge of doing spaces like this is staging everything to ensure the residents have the least disturbance possible.The basement area includes a mailroom, laundry area, trash and recycling areas as well as access to parking. The timing and communication with the facility manager, property manager and board had to be precise.
Another challenge is the order of the process. If we do the painting first, then the floor, we run the risk of the grinders bumping into the wall and chipping paint. The floor process can also generate dust when we profile the concrete, despite being attached to HEPA vacs. We didn't want to leave dust on the newly painted walls.
So we did the floor first in this building. Our painters are used to working in finished homes so protecting the newly finished floor while we painted was par for the course.
Why Coat the Floor in Your Apartment Complex?
There are multiple benefits to keep in mind. Let's look at a few:
Gives the space a much brighter, cleaner and modern look 
Facility staff has a much easier time cleaning the floors 
They don't have to re-paint the floors every year
Protects the concrete
Provides a moisture block as well as antimicrobial and antibacterial protection 
Call us today!
We are willing to help you with any size project. Let us know what you need and we will provide a quote. Hope to hear from you soon!