Painting your kitchen cabinets freshens your kitchen without a messy remodel, adds value to your house, and allows you to personalize your space with the colors of your choice. Once you make the decision to paint, we recommend hiring a professional as the best care for your cabinets starts with a well-done paint job by skilled painters and high-quality tools and products. This way you begin with a smooth, hard, factory-like finish which is much easier to take care of.
The heart of your home is now clean, fresh, and looking like new. So…how do you keep it that way?
You may be used to using some pretty heavy duty cleaners in your house, especially on floors and tile and soap scum covered glass. Even though the kitchen cabinets may have grease splashes and coffee stains, you don't want to use cleaners that will strip the finish or scratch and dull the paint.
What not to do…
It might be best to start with what not to use when you are cleaning your wood cabinets. Stay away from the following:
Magic Eraser or similar sponges
Cleaners with abrasive particles
Petroleum products
Spray polishes containing silicone
Abrasive powder or scrubbing pads
Intense detergents
Wax citrus/orange cleaner
What to do…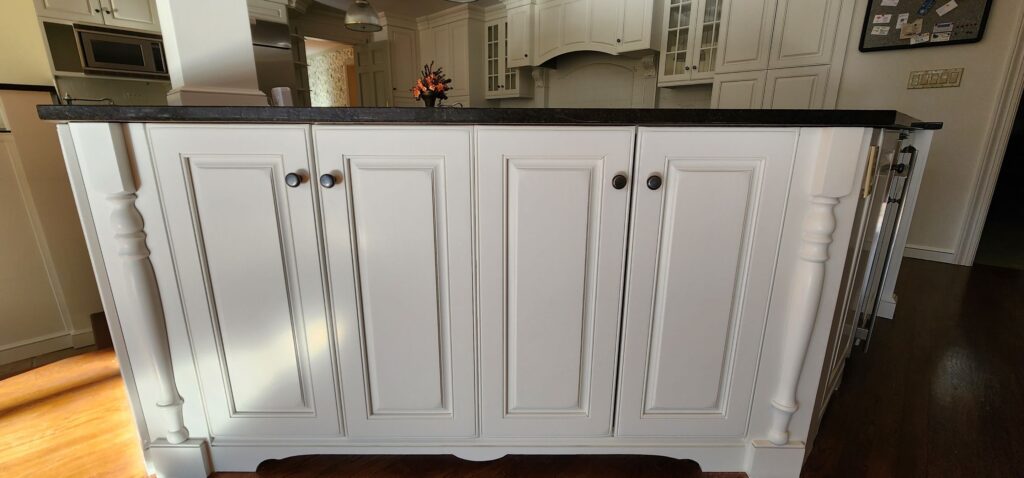 Here is some general advice for regular upkeep:
Clean as you go while cooking.
Don't let spills sit on the finish.
Don't hang damp towels over cabinet doors or drawers.
Deep clean the exterior and interior every three to six months.
How to do it…
If you're not supposed to use caustic cleaners, what are you supposed to use? Follow these simple recipes:
1 tablespoon of baking soda, one cup vinegar, 2 cups warm water
1 part water, 2 parts baking soda for scrubbing
50/50 solution of water and vinegar in a spray bottle
Warm water and degreasing dish soap
Gentle, all natural cleaners
Remember to use a microfiber cloth or super soft sponges while you work.
Keep these things in mind when you clean your kitchen and your cabinets will stay fresh and bright longer. You won't have to repaint for years! And, if you have further questions about cabinet painting, contact us today. We'd love to hear from you.