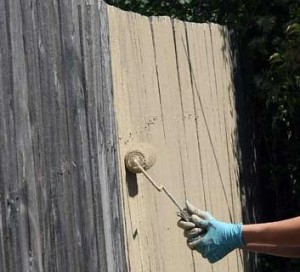 A well-painted fence is a great asset to the look and value of your home, providing safety for children and pets, added security from passers-by, and a visual border to accent your property. Fence painting, however, can be a tremendous headache, scraping, priming and painting four edges of each slat, post and rail. On a fence-painting project like this, there are a number of reasons to contact a professional painter.
First, an experienced fence painting contractor has the experience and equipment to finish the fence in a fraction of the time it will take an average homeowner.
Another reason to trust your fence to a professional is that the results are going to be longer-lasting and better-looking. Skilled and knowledgeable, a painting company uses the procedures and products that will give you maximum paint performance, extending the number of seasons before the next fence-painting.
Some painting contractors, such as A.G. Williams, also employ expert carpenters who can assess and repair any damaged, rotten, twisted or infested boards on your fence. When you have a professional painter do the job, you know it will be done right.
Finally, hiring a painting company for your fence work simplifies your life and reduces your headaches. We'll take care not to trample your shrubs or drip paint on your sidewalk. You can relax; your home is in good hands!
A.G. Williams has more than a century of experience painting here in New York and Connecticut. We paint fences, decks, siding, trim, gutters, and more. See our portfolio for pictures of our interior and exterior painting projects. In addition to painting, we clean, pressure-wash, stain and seal exterior woodwork.
Serving Bronxville, Irvington, Bedford, Cos Cob, Darien and the surrounding communities, A.G. Williams is your local painting contractor.