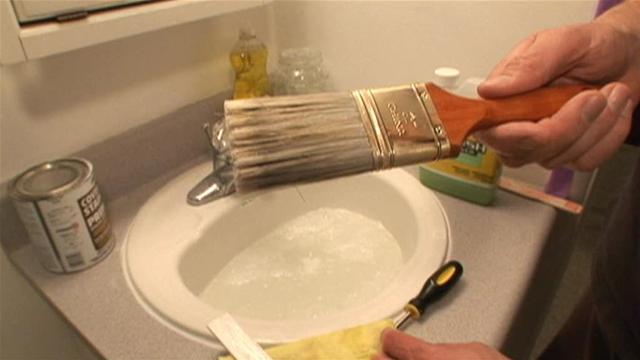 Interior painting involves much more than just applying paint to the walls. There is an intense process before-hand, involving selecting paint colors and preparing the area to be painted. Similarly, once the paint is on the walls there are a number of things that must be done to clean up. As a painting contractor, one thing that we have discovered is that cleaning up after interior painting can be enjoyable, as that is when the results of the work are first displayed!

The first thing to take care of is to store your leftover paint, since it will dry out if left uncovered. Put excess paint back in the can, and close it tightly.
Now it is time to clean your painting equipment, since it will be reused many times, and if the paint dries on, you will have trouble later on. If you used spray equipment, empty out your reservoir, rinse it clean, and then put a solvent inside. Spray the solvent through the device until the liquid exits clear. Then take apart your sprayer and allow it to dry. If you used brushes and rollers, wash them thoroughly with a solvent. Also use a wire brush to remove paint from the bristles of your brush. A curved plastic or metal tool can be used to help clean the roller.
Your choice of solvent will vary depending on what kind of paint you used. Most homeowners and painting contractors now use latex/acrylic based paints. These clean up quite easily, and do not need to be treated as hazardous waste. Water is the best solvent for latex/acrylic paints, and they can be cleaned in a sink or bathtub. Rinse with plenty of water, and then lather in some dish soap and rinse again. Repeat this until the brush or roller runs clear. If you are using oil-based paints or stains, turpentine, acetone and mineral spirits can be used to clean your painting equipment.
Interior painting contractors have learned from experience that tools need to be kept organized and tidy. Don't just throw your brushes and tarps haphazardly on a shelf or in a shed. Instead, stick with the proverb, "A place for everything, and everything in its place." It may seem like a pain at the time, but trust us, you'll be glad later!Once you have taken care of your painting equipment, the next step is to clean up the painting area. Tape should be removed once the paint film has dried to the touch, but before it has thoroughly cured. This typically means between 6 and 24 hours. As you pull off the tape, roll it in on itself in a ball, so that the sticky part is outside and the paint is inside. This prevents some messiness. Finally, tidy up the work area. Fold tarps, throw away garbage and remove all painting paraphernalia. Now you can move furniture back into the area, as long as it doesn't touch the fresh paint. It is best to wait 3 days or so before hanging pictures or placing furniture against the walls.
A.G. Williams serves Connecticut and New York with professional interior painting services. We work in Cos Cob, White Plains, Briarcliff Manor, New Rochelle, Greenwich and other nearby communities. We have been providing interior painting, exterior painting and commercial painting services for over 100 years!