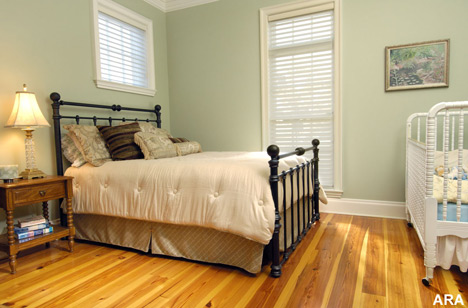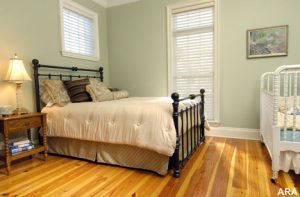 It's hard to believe, but in the 1950's low ceilings and small rooms were in style. Today nothing can hamper a room's feng shui like cramped space. If you're running up against this problem, but aren't ready to tear out walls or raise the roof, we can suggest several tips when painting small rooms to make them feel bigger!
Surprisingly, much of the time, a small or cramped feeling in a room has little to do with clutter, and more to do with color (paint!). It's an illusion! Residential painting companies have a number of time-tested tricks that seem to magically expand that crowded space! You'll be amazed at the ways you can promote openness and expansiveness in your house with just a few simple creative painting ideas.
Give these interior painting tips a try:
Painting Small Rooms to make them Look Bigger
Use light colors. Dark walls drain color, and consequently, palpable space.
Visually raise the ceiling by painting the crown molding a lighter color than the walls.
Paint your opposite walls in pairs. For example, paint one set of walls that are opposite one another in a medium tan, and paint the others a lighter, sandy color. Use white trim all the way around to add cohesion to the room.
Reflectiveness always opens up a room. This is true with mirrors and paint. When painting to de-clutter, use a satin sheen rather than flat.
Avoid sharp contrasts between you furniture and walls. Paint your walls a similar color to your furniture. This creates less color-noise, and diminishes the bulky appearance of furniture.
Other Tips for Painting Small Rooms

Maximize your space by flattening your furniture against walls. Angled furniture can waste space and add clutter.
Use glass-topped or translucent coffee tables and/or end tables.
Again, reflectiveness is key. Hang a framed mirror in a prominent place.
Keep your surfaces (coffee tables, shelves) as clear as possible. Knickknacks and piles of interesting things create interesting clutter.
Throw the open the shutters, and roll up the blinds. Use sheer curtains, or keep curtains pulled back. Nothing infuses a room with space like natural light!
As the premier area painting contractor, AG Williams can give you the best painting tips to help increase and develop the rooms in your home that feel jammed up and stuffy. We're a customer-oriented painting company, and we're eager to be at your service.
A.G. Williams is based in New Rochelle and Pelham; we service Larchmont, Rye, Scarsdale, White Plains, Irvington, Armonk and the surrounding towns. We offer free a free consultation and estimate for interior and exterior residential painting. Call us or send us an email to begin the conversation!