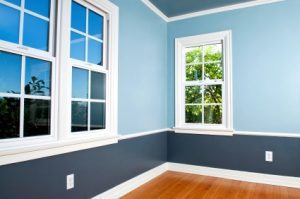 Choosing a good color for trim affects the overall aesthetic and impression of a room and can make the difference between a standard painting job and an outstanding one. If you are having trouble deciding on trim paint colors, we have a few tips here that may help you find a color that you will be happy with.
Keeping it Classic
The exact trim paint color depends on the overall effect you wish to create in a room. Most painting contractors recommend white or off-white. White has been the standard color for trim for a number of reasons: First, white is a universal accent color. If your walls are painted a color other than white, the white draws attention to the trim. Also, white trim tends to make rooms look more spacious. This is especially true of crown molding. So, if you want to go with a safe standby, try going for white or off-white trim.
Getting Creative
However, if you want to add subtle accents or bold splashes of color in your room, choosing a fun trim paint color is an excellent way to start. Here's where your creativity comes into play. If you are going for a high-contrast look, try a black trim against a light wall. If you want a more discrete accent, try finding a color that is only a few shades lighter or darker than the color of the surrounding walls. In general, keep in mind that warm colors (such as red, yellow, or orange) are considered advancing colors and tend to make spaces feel fuller, while cool colors (such as blues, greens, and violets) are receding colors which create an illusion of space. For more information and help with choosing colors that complement each other, try our color consultation service.
Trim Paint Type
Regardless of the particular trim paint color you choose, painting contractors recommend a glossy or semi-gloss for painting trim. Glossy paints are easier to clean and resist scuffing more than low-gloss or flat paints. This is important for painting trim, because it is usually in areas that receive more traffic, such as around windows, doors, and floors where it is likely to be abraded.
If you want help on a project, just contact us for a Free Estimate! A. G. Williams Painting Company, Inc. serves Harrison, Rye, Scarsdale, Briarcliff Manor, Thornwood, Chappaqua, Old Greenwich, Stamford, Darien and the surrounding areas.