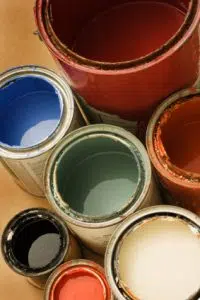 If you are interested in repainting your home, one of the questions that will inevitably arise is what type of paint to use. There are many different types of paint available but the two main categories are oil-based paints and latex-based paints. There are a number of advantages and disadvantages to both, so, depending on your situation and tastes, you may find one to be more advantageous. Read these facts below to find out which is better: latex or oil paints.
Advantages of Oil Paints:
Painting contractors use oil paints for a number of reasons. Perhaps the primary advantage of oil paint is its ability to cover blemishes and resist scuffing. Because oil paints are much more durable than latex paint they are able to resist more wear and tear. Also, oil paints tend to be easier to wash and can withstand stronger detergents than other paint types.
Disadvantages of Oil Paints:
However, there are a few drawbacks to oil paints. First, they take a long time to dry. Oil paints require at least 24 hours to dry and if humidity is high it can take up to several days. Oil paints often have more of an odor than latex paint. Oil paints also tend to peel more than latex paints if the surface below has been exposed to moisture.
Advantages of Latex Paint:
Latex paints are used by many painting companies because its porous quality allows moisture to escape from the surface beneath, eliminating peeling and bubbling. Latex paint is usually odorless and therefore have low VOCs (volatile organic compounds) which can be harmful.
Disadvantages of Latex Paint:
There are also a couple of downsides to latex paint: first, latex paint requires primer when applied to either steal or wood. Second, latex paint often is more susceptible to stains than oil based paint. It also takes longer to cure than oil paint, and may be damaged easily until it cures. Finally, latex paint requires surfaces to be clean, whereas oil paints adhere to surfaces better, even if they have some dirt on them.
Read these tips if you are thinking about hiring a painting contractor.
If you have more questions about what kind of paint is best for you, contact us or get a free estimate. A.W. Painting Company has been offering high quality painting services for over a hundred years. We serve in Pelham, Ardsley, Tarrytown, Pleasantville, Briarcliff Manor, Cos Cob, North Stamford and the surrounding areas.