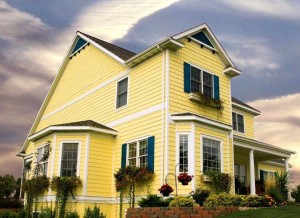 With the accumulation of winter mud and mildew, perhaps your exterior siding is ready for a repaint. Or maybe you just want to give your home a new look with trendy colors. Whatever the case, repainting your exterior siding will give your home a fresh, clean look. Read these step below to learn how to paint exterior siding.
Prepare the Surface
Before you can begin painting the siding, there are several steps you should take to ensure that the new paint will adhere properly and look great. Begin by protecting surroundings (shrubbery etc.) with protective drop-cloths. Next, wash the surface of the siding thoroughly with a sponge and mold and mildew killing detergent. (This solution can be created by mixing 1 gal. of water with 1 cup of chlorine bleach and 1 cup of trisodium phosphate.) Be sure to use gloves and protective eyewear during the cleaning process. Rinse the siding well with a garden hose.
Use a Primer
Once the siding has been washed and rinsed, wait until it is completely dry. Now you are ready for the next step. Many professional painting contractors recommend using a coat of primer on exterior siding before the painting. Apply the primer carefully, starting from the top and working to the bottom. Cut in at the edges, making sure not to leave excess paint in the cracks between boards.
Apply the Paint
When the primer has dried, you are ready to apply the paint. As with the primer, begin by cutting in. Paint all the edges first making sure the brush reaches thoroughly inside every groove. Work systematically from top to bottom. Once all edges have been prepared, you can use a roller to paint the accessible surface area of the siding. Again, avoid dripping from excess paint. It is best to undertake this project when the temperature is between 50 and 90 degrees Fahrenheit with mild or low humidity levels.
Painting siding can be a big job! If you are interested in repainting your siding and are thinking about hiring a painting contractor, read these tips. You can also contact us and we would be glad to assist you. Or check here for a Free Estimate! As a professional painting company, A.G. Williams has been serving homeowners with top quality, personal service for over 100 years! We serve Harrison, Rye, Scarsdale, Briarcliff Manor, Thornwood, Chappaqua, Old Greenwich, Stamford, Darien and the surrounding areas.