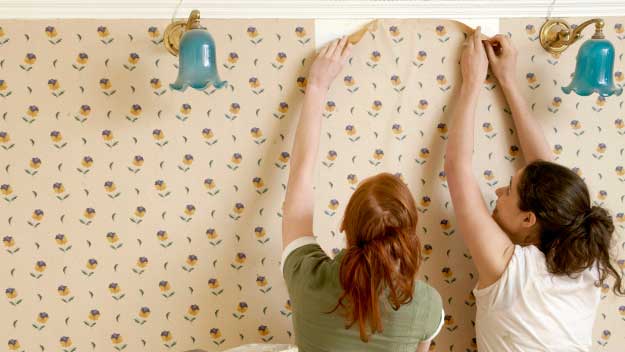 Wallpapering your home can open up worlds of creativity and fun and allows you go get just the look you want in your house. However, wallpaper can be tough to work with if you're a "do-it-yourselfer." Whether you're battling old wallpaper that won't come off, or trying to get new paper to apply well, wallpapering your home can be a big job. As a professional residential painting and home maintenance company, A. G. Williams offers quality wallpaper installation and removal services that can take the headache out of a wallpapering job.
Instillation
Before installing new wallpaper, A.G. Williams will ensure that the walls are well prepared: this includes removing old wallpaper, eliminating old glues and other chemicals, and repairing any damage in the walls.
Once the walls have been properly prepared, we make sure that the new wallpaper is applied carefully and exactly to the homeowners preferences. With our professional equipment and crew, we can get the job done well and at a time that works well with your schedule.
Removal
Removing wallpaper can be one of the most frustrating experiences a homeowner can have. Many people end up damaging the walls under the wallpaper in their attempt to remove it. This only creates more work and hassle. Don't spend hours trying to remove what can come off easily with the proper tools and products! With our special enzyme-based formulas we can take off even the most difficult wallpaper. After the wallpaper has been removed we will make sure that the surface of the wall is well cleaned of all debris, glue and chemicals. If you decide you want to paint your walls rather than putting up new wallpaper, we also provide interior painting services.
If you are interested in having us install new wallpaper or remove old wallpaper, just contact us or get a free estimate! A. G. Williams serves Larchmont, Bronxville, Irvington, Pleasantville, Armonk, Greenwich, North Stamford, and surrounding areas in New York and New Jersey.