Is it time to refresh your interior paint? Maybe those dings and scratches have begun to accumulate, and you know that wiping the slate clean and laying down new paint could totally revitalize a room or three in your home.
Before you pick up the standard color that you have been using over and over again, why not try something new?
Color trends of today are encouraging homeowners like you to think outside the box and go bold! Taking a plunge into the world of creative, bright colors can be hugely rewarding, and it can be done even if you aren't a design or painting professional. It just takes a little confidence, a little research, and a willingness to try something new.
Playing with Bold Interior Paint Colors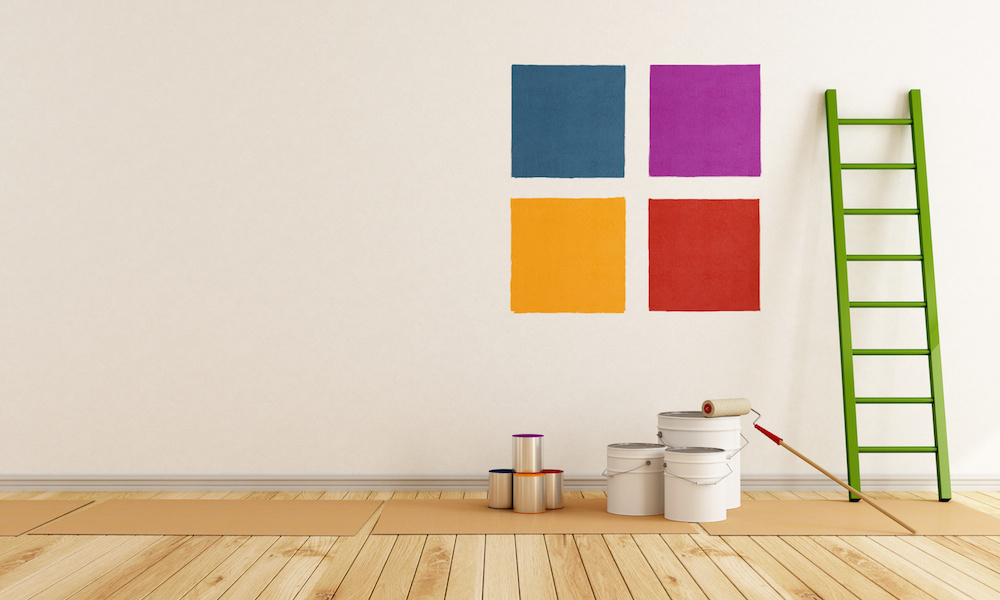 Are you wondering how exactly to choose those new interior paint colors? One wonderful way is to simply begin by researching and collecting ideas of what you do and don't like. Exploring helpful websites like houzz.com is very valuable (and fun)! This allows you to view any number of professionally painted and designed spaces, and definitely helps to light the creative fire.
You also can talk with a painting professional near you. Every home is different, so discussing your specific project goals and ideas with an experienced painting company has a lot of value.
In the meantime, here are a few ideas for how to creatively try something new in your home:
Accent wall – This can be a fun, less-committed way to try out your idea. Paint just a wall or two with your unique color of choice. This can have a striking effect! It's also a good way to make an interesting architectural feature stand out.
Built-ins – Do you have recessed cabinetry or shelving? Try either painting the shelving itself or the walls behind it with a stronger, perhaps brighter color than is found elsewhere in the room. This is also a stylish way to showcase any decorations that may be on display.
White accents – To make your wall color choice even more pronounced, frame it by painting your trim a crisp, clean white.
Play with the reverse – Rather than frame your wall colors with white trim, you also can turn things upside down by painting your trim a bolder color and keeping your walls lighter. This strategy also can be used to connect the color scheme of multiple rooms. Simply match the trim colors from room to room and the link is created.
Are You Looking for a Professional Painting Company?

The team at A.G. Williams Painting Company can help! We have over 100 years of experience offering quality painting services to homes and businesses throughout the Westchester County, Fairfield County, Rockland County, and Putnam County areas. Let's discuss your project!