Exterior house paint has a limited lifespan, determined by the quality of the paint, how well it was applied, and what weather conditions it has endured. Once that lifespan has expired, signs of paint failure begin to appear, such as cracking, flaking, peeling, fading and chalking. What should you do for your exterior paint once it has begun to fail? How can it be treated?
Before we answer that, it's important to say that a house is much faster, easier and cheaper to repaint if you do so before paint failure has begun. This preventative care will save you several of the steps we list below. We recommend repainting your home exterior every 5 to 8 years and maintaining it well to avoid the situation described below.
What to Do If Your Exterior Paint Has Failed
We recently painted this home that had obviously reached a stage of advanced paint failure. By this point, it was at serious risk of all kinds of damage, including wood rot, wood-destroying insects, mildew, mold and leakage.
Step 1 – Remove all loose paint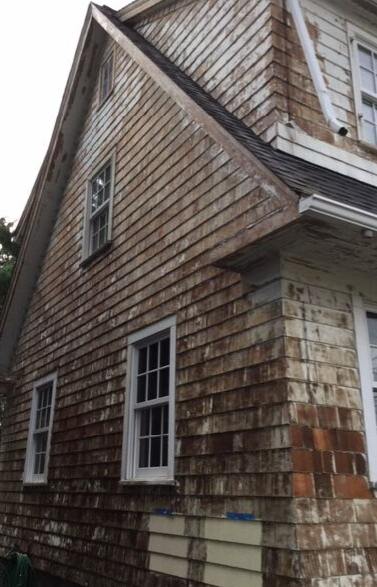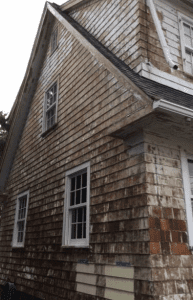 This is the most laborious stage of painting the outside of a home where the paint has failed. It can be accomplished by a thorough pressure washing, usually aided by wire brushing and putty-knife scraping.
When pressure washing a home with wood siding, it is vital not to use too much pressure or to get too close to the wood. There is significant risk of permanently damaging the wood, leaving etchings and gouges.
After pressure washing bare wood, it can take several days before the house is dry enough to move on to the next steps.
Step 2 – Repair any damaged wood
Minor damage can be fixed with wood putty or a similar filler. However, any significant damage to siding or trim should be addressed by replacing the whole board. Wood rot most commonly appears on window and door frames, but it can show up anywhere on exterior wood.
Step 3 – Prime all new or bare wood
Once we had removed the loose paint from this home, most of the house was bare! This requires careful priming to seal the wood against moisture intrusion, and to create a secure surface for the new paint to bond to. If any boards are replaced, we believe it is a wise practice to prime all sides of the new wood before installing them.
Step 4 – Caulk all possible leak points
Window frames are notorious for becoming leak points, but door frames are also in danger. Additionally, any place where wiring, plumbing, or other utilities pass through the walls should be addressed. By using a high-quality, paintable, exterior caulk, you can ensure a tight seal against the weather, keeping water out, and keeping your energy bill lower.
Step 5 – Apply the new paint
In all of our exterior house painting, we recommend using high-quality products. They provide better performance and a longer-lasting finish, meaning you will not need to paint as often. We generally apply two coats, as this gives a more even color and superior durability. On a house with this type of wood siding, spraying is the most effective technique. However, brushing and rolling works well also.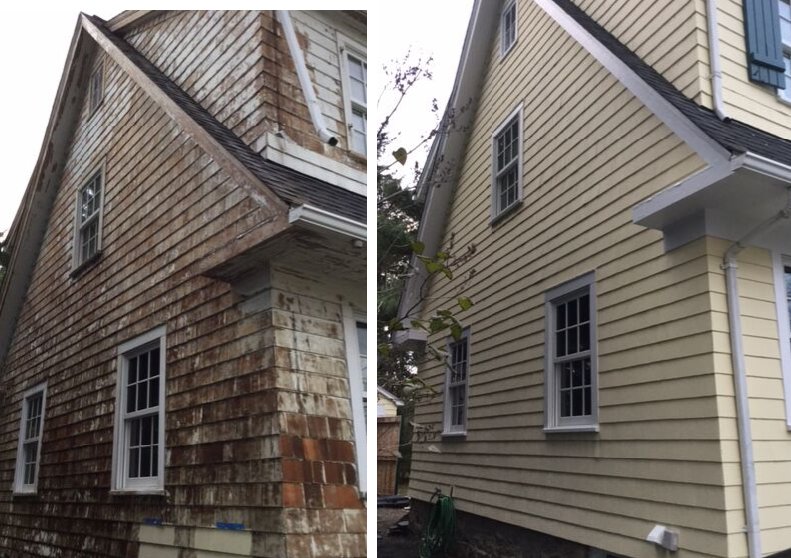 Step 6 – Enjoy the finished product! (And protect it)
It's always great to step back and see what you've accomplished! As a homeowner, you get to enjoy the new paint job every time you step outside. You also get to enjoy peace of mind as you hear the rain against the siding, or watch the snow piling up outside, knowing that your home is well-protected.
Once your home has a good coat of exterior paint, it is important to maintain it. We recommend pressure washing at least once a year to keep off contaminants and mildew. Also, make sure shrubbery isn't growing too near the siding, verify that no gutters or downspouts are clogged, and make a quick inspection to ensure that there is no paint or caulk failure developing.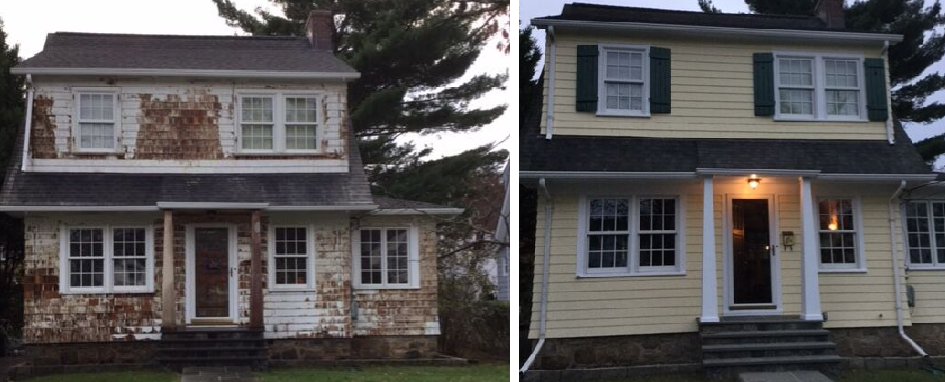 Exterior House Painting in New York and Connecticut
If your home is in need of painting, you might want to consider hiring a professional for the job. As a painting contractor, we can expertly prepare and re-coat your house in much less time than the average homeowner, saving you a lot of labor and hours. Additionally, we stand behind our reputation and our work, so you can be assured of a top-quality paint job.
A.G. Williams has been painting homes in Connecticut and New York since Teddy Roosevelt was president, and we aim to continue for another century at least!