Every year the color experts put their heads together to select the hues they believe will shape the coming year. Even if the experts don't all agree on which colors those will be, their choices are definitely worth noting. For example, the following three colors were all chosen as Colors of the Year by important trendsetters. All of them are bold and catchy, with a world of potential for house painting or interior decor.
Sherwin Williams: Oceanside
This rich shade of blue is surprisingly warm, with a unique tone that possesses a calm energy. While it might be too much for doing all four walls of a room, it could be a fantastic choice for an accent wall. If you did want to use this as the main color for a room, it could work well in an area with enough light to balance it. For example, if there were white wainscoting, or French doors, or large windows with white trim.
Oceanside could go very well beside certain shades of yellow or green, as well as darker varieties of blue. Or, look how well it goes with Benjamin Moore's choice for color of the year!
Benjamin Moore: Caliente
Spanish for "hot," this color turns up the temperature! It is rich and stately, yet inviting and cheerful. It provides a new take on the reds that have been used on front doors and in dining rooms in recent years. Like Oceanside, it would make a great accent wall in a living room or kitchen.
Caliente looks great with lighter, earthy neutrals, with a rich blue, and of course, with a bright, glossy white.
Pantone: Ultra Violet
Describing their choice as "complex and contemplative," Pantone likes this color for its creative associations, a sense of mystery and discovery. As a wall paint color, Ultra Violet would be a moody choice that really creates a thoughtful atmosphere. It also works great as an accessory color for curtains, throw pillows, lamps or artwork.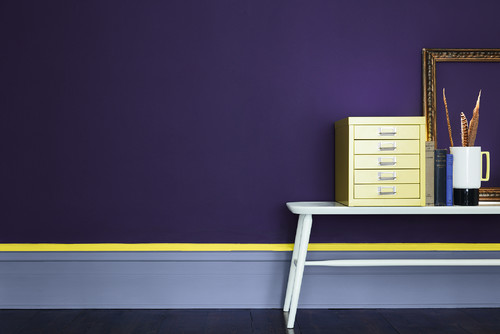 Ultra Violet makes an eye-catching contrast with yellow or orange. Lavender makes a wonderful companion to it, as well as a slightly bluish white.
Interior Painting in 2018?
If you are considering any interior painting for your home in 2018, A.G. Williams would love to help you! We can help you find the best ways to use these (and other) wonderful color ideas in your home, crafting a place of beauty, individuality, and comfort.
A.G. Williams has been providing professional house painting services in New York and Connecticut for over 100 years. We take great pride in doing everything with excellence, and on every job, we're not satisfied until you are!