Every craftsman loves a challenging project, one that presents unique features and offers chances to exercise different skills. We recently repainted the exterior of this historic home, which gave us exactly that kind of opportunity. There were many elements of this painting project that made it stand out from a typical modern home.
Historic Stucco Restoration and Painting
The siding of this elegant home is made with a style of stucco that is not common anymore, and as you can see, it needed some work. We had to be careful to get the surface looking natural and uniform before we painted it, which involved texture matching. Of course, we primed all repaired areas, and then painted the stucco siding. We're pretty pleased with the results!

In addition to the historic stucco, there was also a good deal of wood siding to paint, including the peaks and the Tudor-style decorative wood. Besides that, there were some creative decorative details in the woodwork at the front of the home. All of this woodwork required careful preparation and painting.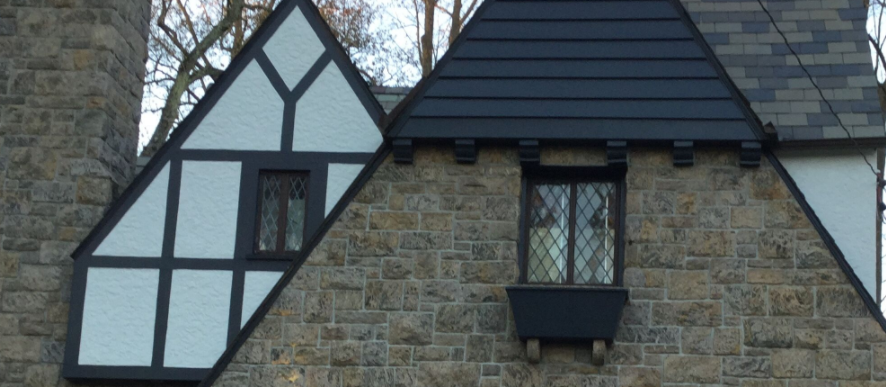 Window Frames and Front Door Painting
While this house is very well-preserved in many ways, the front door was in need of some attention. It's now carefully restored and protected against the weather, and we changed the color of the front door to match the painting we did on the rest of the house.

Window frames are often one of the first areas of a home exterior to need painting. On this historic home, the window frames were in good structural condition, but in need of freshening up. We painted the window frames to match the new color of the wood trim.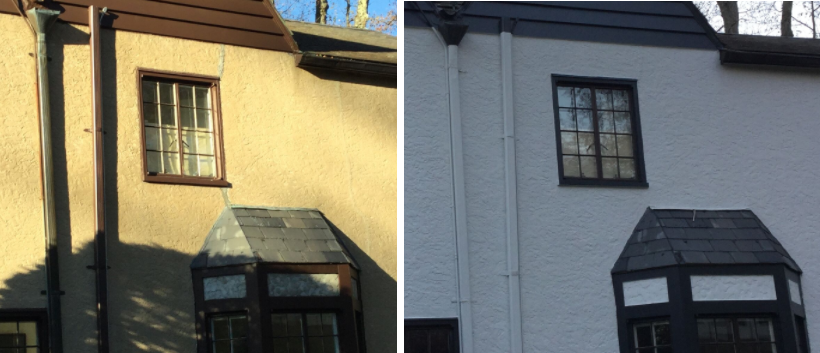 As we were painting the rest of the house, we were also able to paint the gutters so that they blend much more artfully with the rest of the house. Finally, we painted the garage door to complete the exterior transformation.
House Painting for Historic Residences
If you own a historic home or manage a historic building, you need a painting company with experience in historic restorations. A.G. Williams has over 110 years of experience painting all kinds of homes, and we excel in all aspects of exterior painting.
We offer all kinds of services to help you maintain the beauty and integrity of a treasured home:
Authentic period color and product knowledge
Wood repair for dry rot and insect damage
Stucco and masonry repair
Careful power washing
Wood refinishing
Window & door painting
Gutter, trim & fascia painting
Garage door painting
A.G. Williams serves Westchester County, New York and Fairfield County, Connecticut, including New Rochelle, Harrison, Pelham, Greenwich, Stamford, Norwalk, and the surrounding communities.