If you are thinking about some interior painting in 2018, the living room is a great place to focus your attention. As the locus of activity in the home and the place where you most often entertain guests, it deserves to be updated and refreshed. Of course, choosing colors that fit with modern trends and look good in your home can be challenging. Don't worry! We have a few suggestions for you. Here are a few popular living room paint colors for the new year.
Black: It's not just cars and clothing anymore!
A number of color companies have taken a bold departure this year and are now demonstrating how black can be used in a living room. PPG Paints has "Black Flame," Behr offers "Nocturn Shade," and other paint manufacturers also have striking and pleasing options for smoky or slate-toned blacks.
One way to use black in your living room is as an accent wall, or a prominent feature such as a fireplace surround. Alternatively, it can be the main wall color, as long as you have other features to lighten up the room, such as picture windows, or light-colored furniture and décor.
Sage: It's coming out of the kitchen!
One of the quickest growing color trends this year is sage green. For example, Sherwin Williams offers their variety, named "Halcyon Green." Calm, yet with a deep, living energy, sage green can make an excellent living room color. It pairs well with creams, grays, browns, and it could even go with purple accents. If you have plants in the living room, they add to the vibrant richness of the greens. Of course, bright white also makes an excellent pair with sage green.
A "not-so-neutral" neutral!
Behr has released an amazing color called "In the Moment," which makes a fabulous choice for living rooms (and beyond!). In their words, this color is "a soothing, restorative coalescence of blue, gray and green." This attractive choice looks great with whites, browns, creams, tans, and with darker shades of cool blue.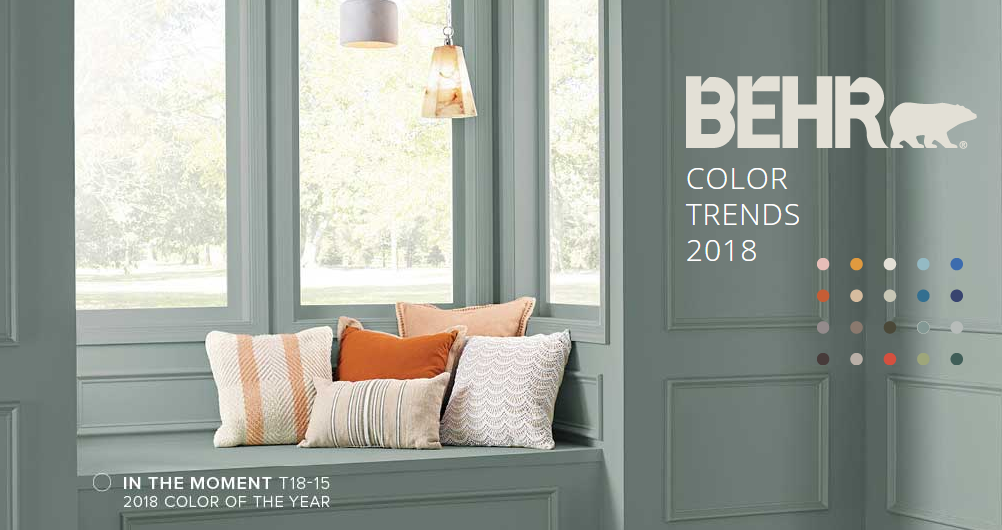 Colors of the Year
Since we already wrote about several colors of the year for 2018, we won't dwell on them here. However, all of them could make wonderful choices for living room colors in 2018. Caliente and Oceanside are especially good choices, either for an accent wall, or for your main living room color. Take a look at our previous post to find out more!
Interior Painting in New York and Connecticut
A.G. Williams has been providing interior painting services for homes in Connecticut and New York for over 100 years. We have seen many trends come and go, and we have applied color in thousands of living rooms. With our professional color consultation services, we can help you narrow down the options and choose the living room colors that will suit your tastes and your home.