Kitchen cabinets have two purposes. The first is function. More than likely, every available space in your kitchen cabinets is filled with cooking utensils, flatware, pots, pans and even food! Beyond function, your cabinets should also add to the aesthetics of your home.
As styles change, you may find your cabinets becoming less of a visual asset, and more of an eyesore. If you love the layout of your kitchen, and are only looking to update your cabinets, repainting is a viable option to explore.
Kitchen cabinet design & color advice
Choosing the best color and finish for your cabinets can be confusing. There are a host of finishes, not to mention endless color choices. Plus, did you know that some colors look different once they are applied?
Your trusted painting pro has been in the business for many years. They understand color theory, and are up to date on the latest interior design styles. Utilize their seasoned experience in the field, and let them help you choose the best color for your kitchen.
Detailed preparation is critical
Painting is only one step in the process. A critical step is the preparation process. Cabinet doors must be removed, every surface needs to be scrubbed, and the surfaces will all be sanded.
After the surface is properly stripped, scrubbed and sanded, the surface must be primed. Priming allows the finish coats to really adhere for maximum durability.
If this prep work is skipped, or done incorrectly, your outcome may not look so great! Repainting your kitchen cabinets is a great option for updating your home, unless it ends up looking like a DIY project gone wrong. By hiring a professional cabinet painter, you are guaranteed to have the correct prep for your surface.
Technical skill
As with the color consultation, when you hire a professional, you can utilize the years of experience that come with the position. A pro is skilled in painting application, plus they have the additional advantage of being able to use high quality tools!
When the project is finished, you will have clean lines with no bleeding edges. You won't find stray drips and you will know that the cabinets have been properly finished for lasting durability.
There is no room for error
Repainting your kitchen cabinets is not something that you should attempt on your own. Once you add the first stroke of paint to your cabinets, there is no going back. To remove this paint from your cabinets, you are looking at a long (and expensive) process of sanding, stripping and refinishing your cabinets (again!).
This is not to scare you away from cabinet painting, but to remind you that if you don't know what you are doing, leave it to the pros! At the end of the day, you want beautiful Pinterest-worthy cabinets to show off. Why risk botching your cabinets when a professional painter can offer you peace of mind?
Time and convenience
Let's face it. We could all use a little extra time. Repainting cabinets is not a quick process for the weekend DIY-er. Between the prep work, application process and final reassembly, you are looking at a considerable amount of time (and mess!).
Your local pro will bring in a crew, and can finish the project in a much shorter period of time. You don't have to do any of the work, or clean-up, and are left with a beautiful, professionally painted kitchen.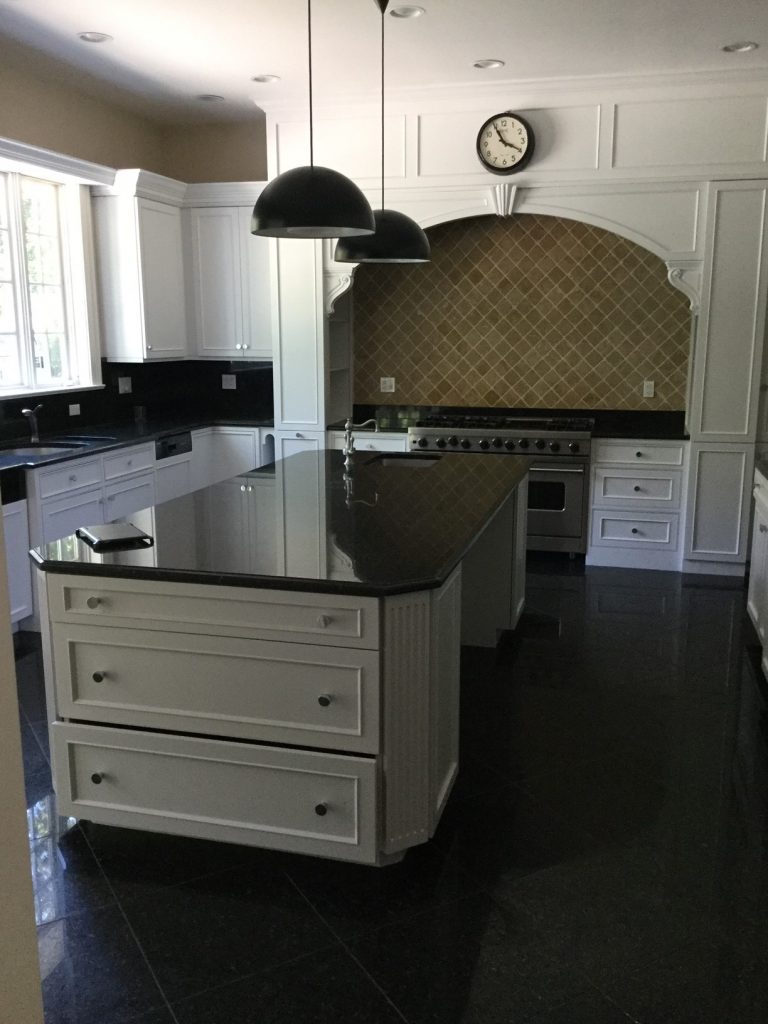 A final word of caution
While shopping around for cabinet painters, it is wise to remember that if the quote seems too good to be true, it probably is. As professionals, we have seen our fair share of bungled projects.
A higher up-front investment may mean less headache and heartbreak at the end of the project. Make sure that your pro specializes in kitchen cabinet painting. Ask for samples and referrals before you make your final choice.
A.G. Williams offers interior design services, color consultation, and kitchen cabinet finishing services, in addition to servicing all of your painting needs.
We have been in the painting industry for over one hundred years, and our desire to meet each customer's needs and fulfill expectations has been passed down for generations. Your satisfaction is our number one goal, and that is a guarantee. If you are considering cabinet painting, reach out to us for an estimate!