There's a lot we're proud of here at A.G. Williams Painting Company: our team, our values, our old-school craftsmanship… 
One of the things we may be most proud of, however, is our history and heritage. This month we're celebrating our 113th year in business, and that's a milestone we don't take lightly (especially in this day and age).
A Quick Look At the History of Our (Your!) Painting Company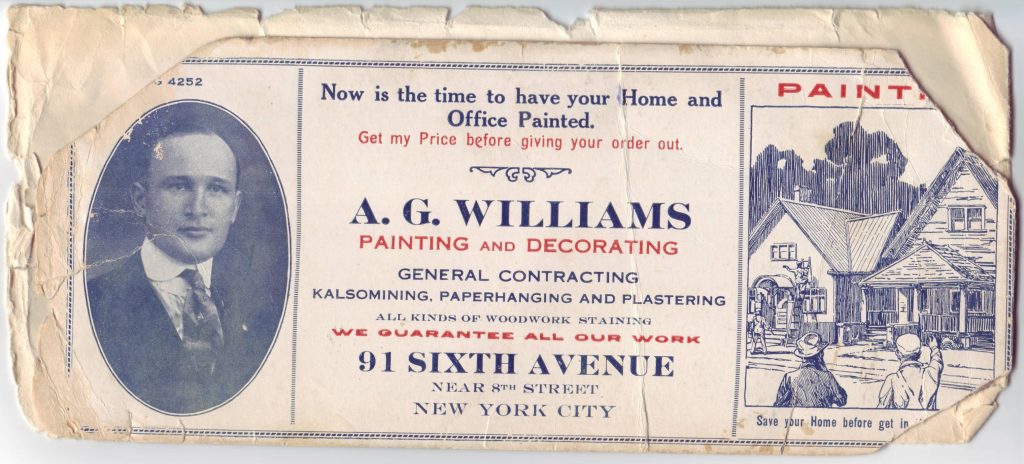 1904: Arthur G. Ratsikas entered the United States through Ellis Island, where his name was changed to Arthur Rogers. 

July 22, 1906: Arthur Williams founded A.G. Williams Painting Company in New York City. 

Arthur changed his last name again, this time to Williams, since he exclusively used Sherwin-Williams products and thought that the name would help establish his local credibility as a painter.
Since those early days, we have weathered many, many storms, not the least of which was the Great Depression (and economic turmoil, recessions, and wars that followed). This durability as a company is certainly due to our focus on client satisfaction, but also points back to Arthur's unique focus on his team. Arthur Williams founded this company on a deep commitment to providing consistent work for his painters, keeping them paid before himself even through the leanest of times.
When George Williams took the business over in 1985, he helped usher us into a new chapter of growth. We expanded from just a handful of painters to an operation with over 80 full-team craftspeople, providing commercial and residential services throughout Westchester and Fairfield Counties. 
Giving Back Is Part of Our Culture
113 years have watched us grow from an immigrant with a dream to an industry leading painting and flooring company. That's a remarkable story, and it reminds us of how essential it is to give back to the communities that have trusted us so well over the decades and made this legacy possible. 
Since 2006, we've donated over $1.2MM in painting services, along with charitable endeavors to nonprofits and neighbors in need. 
As a painting company that is now stepping into its 4th generation of leadership, we are still focusing on these core values, and can't wait to see what the next 113 years will hold!
Thank You!
We all want to thank you, our local clients, friends, and fans, who have cheered us along, and have trusted us with your homes and businesses. It is our pleasure and privilege to serve you!