It's time to refinish your kitchen cabinets. You've done your research, decided that painting is the best choice, and now the next step is finding the right contractor for the job.
While there's certainly no shortage of painting companies who claim to be able to paint cabinets, the list of actually qualified, knowledgeable cabinet painters is much, much shorter.
So, how do you know which pro to hire? To streamline your research, we've compiled a list of questions to help you sort through the competition.  
5 Questions To Ask Your Cabinet Painter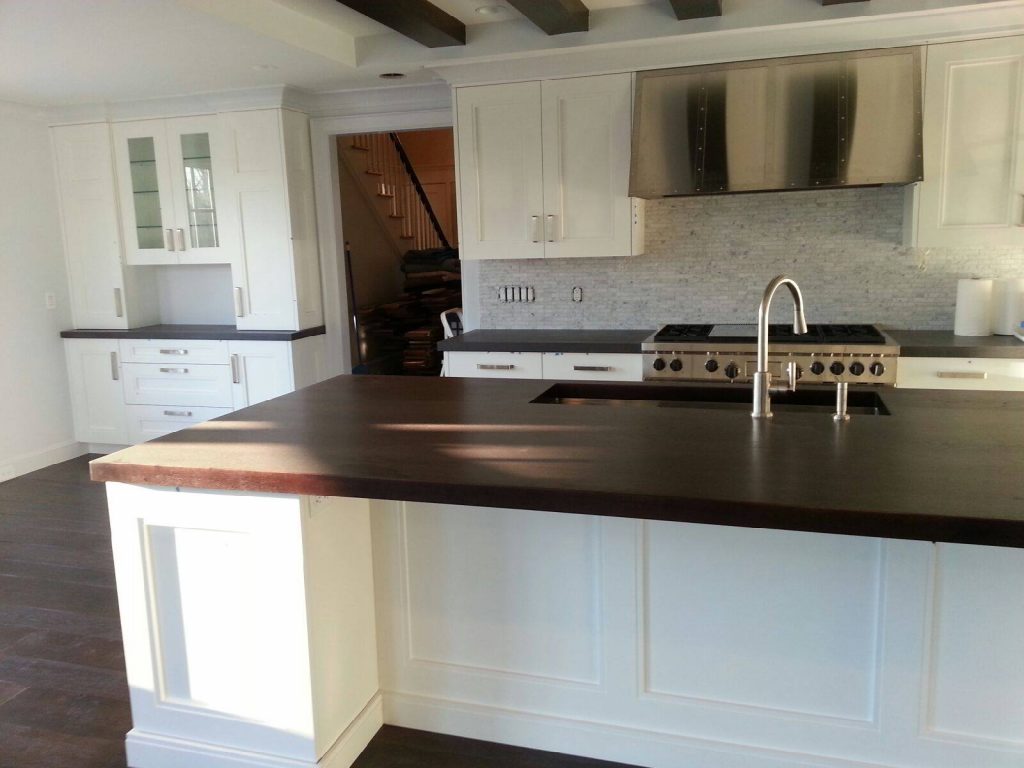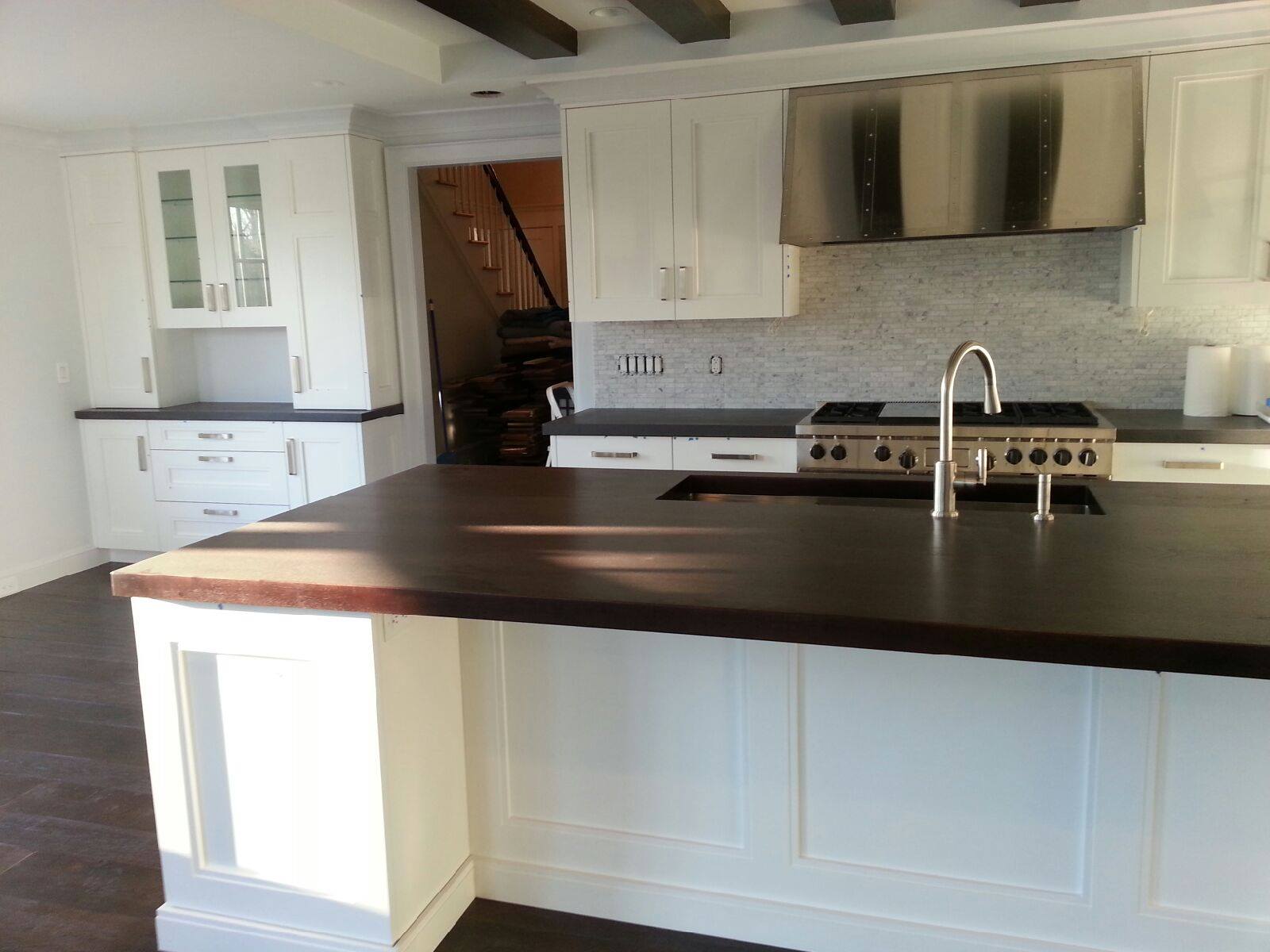 Let's take a closer look.
Are cabinets your specialty?

As we touched on above, technically anyone can paint cabinets, but that doesn't mean it will turn out well. It's crucial that you find a painting company that actually specializes in the process.

What is your painting process?

The steps your prospective pro will take tells you volumes about their knowledge and experience. Look for thorough prep, including cleaning, sanding, and priming. A pro also can create spray finishes as well as specialty brush finishes.

Can you show me samples of your work?

Sample boards can give you a preview of your cabinet painter's skill.

Can you provide references? Actual client feedback, referrals, and reviews are essential. You can also check social media, looking for recent activity, project photos, videos, etc.
Are you licensed and insured?

A true professional protects your home in every way, and this includes carrying all necessary credentials and coverage.
Our Process – How Do You Paint Kitchen Cabinets?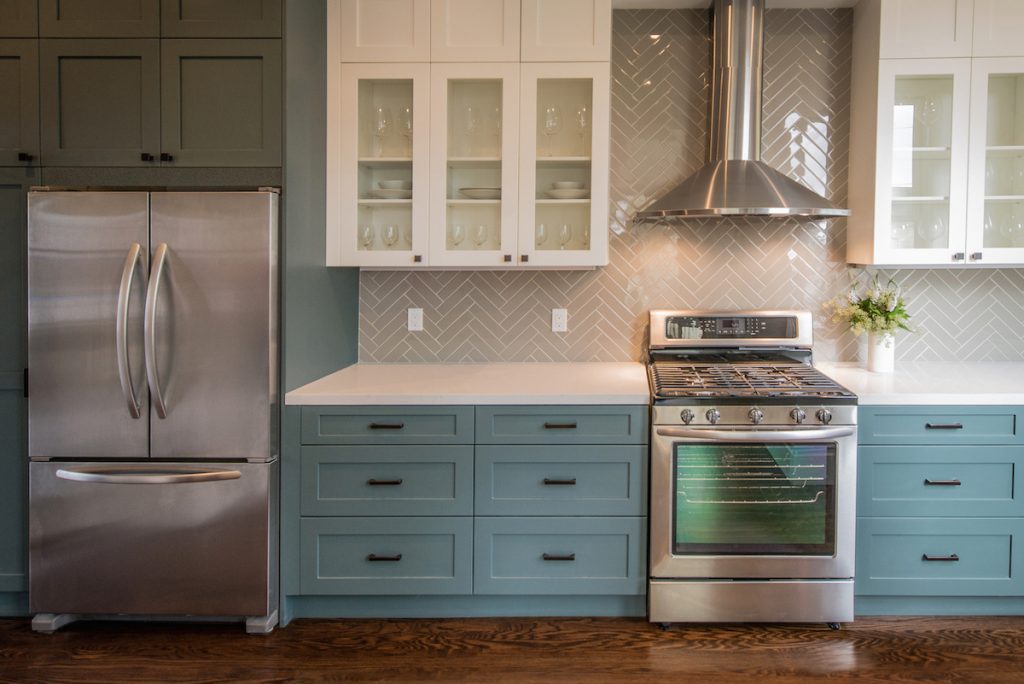 As we mentioned above, there is a spectrum of finish qualities offered by different painting contractors. Taking the time to find a qualified cabinet painter is so valuable, both for the appearance of your cabinets as well as their longer-term performance. 
A true cabinet painter takes the time to do the process right, focusing on the details that all work together to deliver the best value possible. After all, cabinets are hard working surfaces and need to be set up for success from day one. 
Ready for a closer look at the process? Here's what you can (and should!) expect.
Surface preparation!

This includes carefully removing (and labeling) hardware, then de-glossing/sanding every surface. Preparation, believe it or not, is the most critical step in any painting project, making or breaking the rest of the process.

Paint! This starts with primer – two coats.

If you're painting a color other than white, we also would recommend that you tint the primer so that it matches your desired finish coat. There are products specifically formulated for cabinetry as well that offer an ultra-durable finish that can stand up to use, abuse, and cleaning. 

Time for those final touches!

Either reinstall your hardware, or install new hinges and pulls. Paint makes a big difference on its own, but when you take this opportunity to update your hardware as well, the transformation is even more drastic. 
Fair warning: this process is not for the faint of heart, or inexperienced painters. We certainly live in a do-it-yourselfer world, but some painting projects really are best left to those who have the right experience, tools, and know-how. The kitchen is too valuable a space to experiment!
If you are looking to repaint your cabinets but don't know if you want to try it yourself, give us a call and get a free estimate! A.G. Williams Painting Company has been offering top-quality painting services for over a hundred years. We serve Pelham, Ardsley, Tarrytown, Pleasantville, Briarcliff Manor, Cos Cob, North Stamford and the surrounding areas.