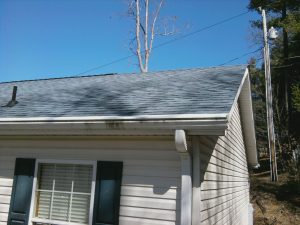 With the winter over and the spring and summer approaching, now is the time to clean your gutters and get them back in shape. Over the winter, gutters tend to collect residue inside and out, washing and cleaning gutters can be both dangerous and difficult. A.G. Williams, as a residential painting contractor, has all of the equipment and skills we need to safely and effectively clean your gutters and have them shining like new again!
Cleaning the visible front on gutters and downspouts can often be accomplished with a pressure washer, but sometimes tougher contaminates withstand the force of water. This is why A.G. Williams will also hand wash your gutters to restore them to their original gleam. Also, if your gutters have significant damage or wear to the paint, we offer gutter repair and gutter repainting services.
Of course, the main purpose of a gutter is not to look good, but to move water away from the house. A.G. Williams can help you keep your home protected from heavy rains by emptying your gutters of debris and by making sure all of your gutters and downspouts drain properly. Finally, we can also install gutter guards that will help prevent future leaves and debris from entering and clogging your gutters.
Providing exterior painting and maintenance services to Connecticut and New York State, A.G. Williams serves Bronxville, Scarsdale, Irvington, Chappaqua, Riverside, Cos Cob, Mamaroneck and the surrounding areas.
Read these tips if you are thinking about hiring a painting contractor.