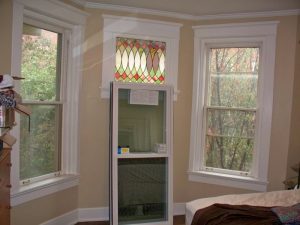 Here in New York and Connecticut, many classic and antique homes suffer from aging windows. As they are redecorating, many homeowners with this situation ask themselves, "should I repaint or replace my windows?" Each option has certain advantages, so the answer will be different for each homeowner.
Repainting your old windows is definitely the cheaper option, at least in the short-term. With some care and hard work, older windows can be revived to look amazingly stylish and sharp. One way to help this effect is to upgrade any visible hardware, such as handles, sash-locks, hinges and/or window-cranks. Besides saving money, this option also maintains the original style of the house, preserving the unity of the original architecture.
If you are going to repaint your windows, use wood filler and sandpaper to patch any flaws, cracks or holes in the wood. If you are painting over bare wood, use a blocking primer that will prevent the knots from showing through. Finally, use a semi-gloss sheen and a coordinating color to make the new look stand out.
Replacing aged windows, while not immediately cheaper, is often a better option in several respects. Because they are much better insulators, new windows reduce heat transfer and can significantly reduce energy costs. Also, older-style windows are often misaligned or worn out, becoming difficult to operate and clean. Lastly, newer windows have a cleaner, more stylish appearance, and can enhance the look of an older home.
Whether you desire to repaint or replace your aged windows, A.G. Williams can help. As an experienced painting contractor and remodeler, we can acheive the results you want in a way that suits your budget. Call us for a free estimate in Harrison, Rye, New Rochelle, Ardsley, Bedford, Chappaqua, Belle Haven and the surrounding vicinity.
Read these tips if you are thinking about hiring a painting contractor.