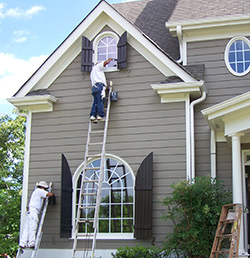 When we are considering a significant expenditure, we usually perform a cost/benefit analysis (even if we don't call it that in our heads). That means that we try to compare what it will cost us with what we will gain, and see if it is worth the price. With interior or exterior house painting, one of the values that you receive is the enjoyment of living in a more attractive setting. But another consideration is that painting often increases the value of a house!
Many home improvements tend to have a negative ROI (return on investment), meaning that the amount of added value in your house is less than the cost of your improvement. Often, kitchen and bathroom remodels have a negative ROI (though not nearly as bad as in-ground pools, in case you wondered!). If you spend $15,000 on a new kitchen, it may only increase the value of your house by $12,000, or even less.
Does Painting Have a Positive ROI?
Painting, on the other hand, has always rated highly as a positive return on investment. Because it makes such a drastic visual improvement at such a reasonable cost, it often raises the value of a home by a surprising amount. For example, a $2,000 paint job could increase the selling price of your home by $2,500 or $2,800, giving you a small profit from the bargain.
If you are hoping to sell your home, and you would like to add to its value by painting, it would be good to consider hiring a residential painting contractor. If you do it yourself or hire a budget painter, the results may be disappointing, and the return on investment even more so. Hiring a professional painter is a great way to ensure your investment is a high-quality one.
Read these tips if you are thinking about hiring a painting contractor.
A.G. Williams Painting Company has been serving families and businesses in New York and Connecticut for over 100 years. Our legacy of hard work, loyalty and craftsmanship has earned us a reputation for excellence and value. Serving Cos Cob, White Plains, Hastings-on-the-Hudson, Sleepy Hollow and many other nearby towns, A.G. Williams is your residential painting contractor.