This is a fun time of year in the home improvement world.
New trends, design ideas, and styles are being discussed, and homeowners are feeling inspired to start implementing changes around the house. And, in our neck of the woods, changes and updates can offer a welcome break from the long winter season.
We've recently discussed a few of the trending interior paint colors, but today let's zero in on the kitchen. And, even more specifically, let's talk cabinet colors. What's in, what's out, and what's happening?
Popular Kitchen Cabinet Colors for 2017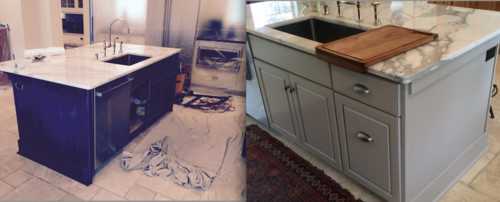 At the top of the list, grey and white are still ruling the world.
Clean, bright, and versatile, it's not hard to see why these are such hot (or actually "cool") options. They get along beautifully with almost any choice of wall color, countertop, and backsplash, too.
Craving More Color in Your Kitchen?
We hear you!
If trendy gray or white cabinets aren't meeting your needs, try mixing up the colors of your upper and lower cabinetry. This is another popular 2017 color trend, and it offers an attractive solution for those of us who just have to have more visual variety. Try light upper cabinets, and a darker, complementary color down low.
You also could turn your kitchen island into an accent piece. Keep your neutral cabinets, and then pick a more vibrant color option for your central island.
Add Natural Wood Touches To Your Kitchen
Whether you go with white or grey cabinets, or a different color completely, you could consider adding elements of natural wood. It's a stylish way to break up your kitchen colors with a neutral, earthy accent.
How can you do this?
Homeowners are choosing to top islands with a butcher block surface, add open wood shelving, invest in wood seating, and more.
Talk To a Professional Cabinet Painter for the Best Options and Results
To really unlock the value and style that painted cabinets offer, it's best to talk to a professional painting company. The process calls for experience, skill, and specific tools.
As an added benefit, a helpful painting company can guide your color selection process too, and maybe offer ideas or suggestions you wouldn't have considered otherwise.