If your property is going on the market, you likely are sifting through your home improvement options, trying to find the perfect way to add marketability in a cost-effective way. After all, it's key that your house stand out from the pack, right?
Here are a few tips and strategies to keep in mind!
Should You Paint Your Home Before Selling It?
Yes.
Real estate pros agree that a fresh coat of paint can work wonders for general marketability. A complete repaint isn't always necessary, but certainly a strategic update for the spaces and surfaces that need it most.
Where should you focus your efforts?
Curb Appeal – Is your

exterior paint

healthy and attractive? If not, hire a professional to help you evaluate whether a touch-up or full repaint is the best option.

Pressure Washing – If your painted clapboards or vinyl siding are tired and dingy, you may only need a thorough pressure washing. The difference can be dramatic! And, wash your walkway, driveway, patio, and poolside areas while you're at it.
Bathrooms and Kitchen – These spaces are rarely neutral. When they're great they're great, and when they're not, well, they can leave a less than favorable impact on your prospective buyer. Refreshing these key rooms is never a wasted effort!
Paint Your Kitchen Cabinets –

Give your kitchen a makeover

in a fast, cost-effective way with professional cabinetry painting. Refresh your bathroom vanities, built-in shelving, and cabinets elsewhere in the home too!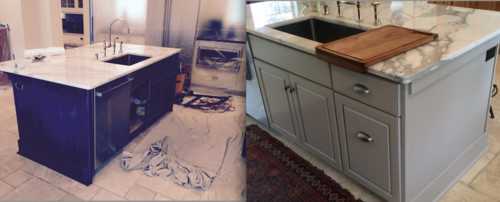 PRO TIP:
Not only are neutral colors stylish in general these days, but they also are very attractive to buyers. Bright, bolder options are risky, while warm, unassuming interior paint simply says, "This home is fresh, cared for, and ready to be personalized."
Partner with a Professional Painting Company
If you're moving, you likely have a lot on your plate. Trying to paint your home is one thing you can (and should) take off your list. Hiring a professional frees up your schedule, provides peace of mind, and a finished product that is obviously the work of a skilled painter adds that much more value.