Kitchens today are not only the hub of your home's activity, but also your home's style.
Textures, patterns, and materials are available in unlimited supply, allowing you to piece together incredible, customized looks for this central space. Whether you love the cool, slick modern feel or eclectic country with reclaimed wood and a farmer's sink, the options never end.
This all begs an important question: how can you tie this kind of eclectic diversity together with a single paint color? Is it even possible?
4 Tips for Choosing a Kitchen Paint Color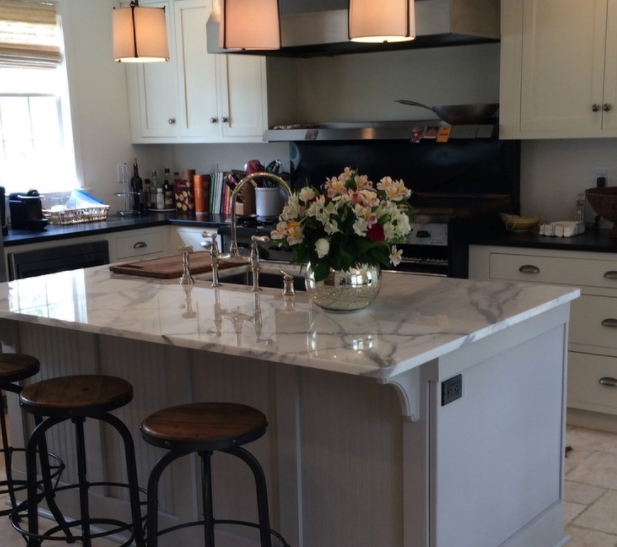 Here are a few practical color selection tips to keep in mind:
Choose Your Paint Color Last – If a kitchen remodel or building project is in your future, don't start with finding a paint color (those days are long gone!). Start with your "fixed" colors, and these are typically based on your must-have materials: countertops, appliances, fixtures,

cabinets

, etc…

Go Neutral, or Go Bold – Most often there is no middle ground. Either you need to choose a neutral that slips into the background almost unnoticed, or you need to take a stand with a deeper color that connects everything (stronger neutrals like blue, brown, and green can do the trick). If a neutral doesn't work for you, you can go the bold route, but we recommend doing this with the help of a color professional. The line is very thin between "too loud" and a creatively chosen, strong, colorful presence.

Find Inspiration in Your Materials – Especially in stone countertops, there can be beautiful neutral colors in the surface. Find the most dominant one, and color match it on your walls. This will create a cohesive palette, and connect you with a unique color in the process that you might not have found otherwise.

Choose a Monochromatic Color – For example, if there is a

must-have cabinet color

you have in mind, choose a close relative for the walls. While some distinction is important so the space doesn't become washed out, a monochromatic choice can create a nice effect.
Talk with a Professional Interior Painter
There is really no margin for error when it comes to kitchen painting and color selection. We suggest starting by partnering with a local professional interior painter to discuss your needs and goals.
And, if you live in Westchester or Fairfield counties, we hope you will give us a call at A.G. Williams Painting Company! It would be our pleasure to serve you.